Burma papers end daily criticism of foreign media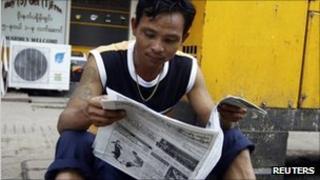 State-run newspapers in Burma have stopped their long-held practice of publishing daily criticisms of the BBC and other international broadcasters.
The back pages of journals would routinely devote space to slogans accusing the BBC of sowing hatred among the Burmese people.
But in recent days the slogans have disappeared.
The move is one of several recent signs that the nominally civilian government is trying to change its hardline image.
Burmese state-run newspapers have long had a familiar layout - the front page devoted to bland descriptions of the activities of senior ministers, the back page emblazoned with invective accusing international broadcasters of inciting unrest.
The BBC has been a favoured target, frequently derided as broadcasting "a sky full of lies".
But suddenly the printed diatribes have stopped.
It is the latest in a series of steps that suggest signs of change in Burma.
Pro-democracy leader Aung San Suu Kyi has held two rounds of meetings with a government minister and last weekend undertook her first overtly political trip outside Rangoon, without any negative repercussions.
The United Nations human rights envoy is being allowed to visit Burma next week.
It is beginning to look like a pattern of behaviour - an attempt to improve the image of a government still struggling to convince its critics that it is different in style and substance from its military predecessor.
But sceptics argue real change will only come when all political prisoners are freed and concrete steps are taken towards national reconciliation.