North Korea 'art smugglers' charged in South Korea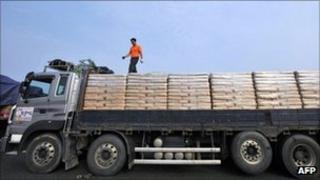 Police in South Korea say they have charged four people with smuggling North Korean artwork into the country and selling it for profit.
They said the ringleader was an ethnic Korean woman from China who secured the paintings with the help of her husband, who has links in North Korea.
They said she had smuggled more than 1,000 paintings out of North Korea.
She sold them to customers in the South and in China, and made $30,000 (£18,200) in the process.
Several of the paintings are stylised landscapes, showing forested mountains and waterfalls.
Another shows a woman standing in a field in a bright red and yellow costume, turning her head to smile out impishly from the canvas.
There are also group portraits and an individual painting of a musician.
Some of the pictures are reportedly by well-known artists believed to have close links to the North Korean government.
Police say the husband of the woman - named as Mrs Kim - used his position within an overseas group for North Koreans to sell the paintings on behalf of an artists' association inside the country.
Local reports say North Korea is exporting artwork to help bring in foreign currency.
Anyone wanting to import goods from North Korea must first get approval from the Unification Ministry.
Trade and other links with North Korea have shrunk this year, a result of new restrictions imposed by the South Korean government after attacks on its territory.