Migrant schools closed in Chinese capital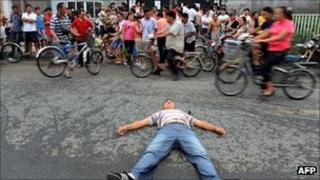 Thousands of migrant workers' children in Beijing have been left with no school to attend after officials abruptly closed their schools.
State media said some 14,000 children in three districts of the Chinese capital had been hit.
Officials said the schools had not met safety standards or were unapproved.
The move has sparked concern over discrimination against the children of migrant workers, who are not allowed to attend state-funded schools.
Under China's household registration (or Hukou) system, its tens of millions of migrant workers remain registered in their home towns even if they move to the city to work.
Without a "city" registration, they do not have access to some state-subsidised services, like health and education.
So the children of migrant workers often have to attend cheap, privately-run schools, some of which have not been approved by the authorities.
State-run Xinhua news agency said 24 schools in Beijing's Haidian, Chaoyang and Daxing districts had been closed just before the start of the new term.
Xie Zhenqing, the head teacher of one of the schools that was demolished, said her 1,400 students now had nowhere to go.
"I know nothing about what they are going do with the students and teachers, when the school will reopen, any relevant polices, what their plan is, I know nothing, they just shut down the school all of a sudden," she told AFP news agency.
Education officials told Xinhua news agency that the schools were closed because they did not meet official standards on construction, sports facilities and other safety issues.
But the head teacher of one closed facility said it was unrealistic to expect migrant schools to meet these standards.
Zhang Zhiqiang, founder of aid group Migrant Workers' Friend, told AFP the move highlighted discrimination against migrant workers, and Xinhua news agency said the issue had sparked "wide public concerns over inequality in education".
Debate has increased over the household registration system in recent years, with some academics calling for it to be abolished.