Australian sperm donor loses fight with lesbian couple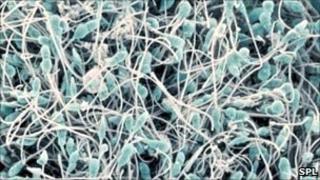 An Australian man who donated sperm to a lesbian couple has been told by a court that his name must be removed from the child's birth certificate.
A court in Sydney ruled that the birth mother's former partner had the right to have her name on the certificate, even though the couple split in 2006.
Expressing sympathy for the father, the judge said he had no contractual right to be registered on the certificate.
The man, who shares parenting, said it was "a very bad day for fathers".
Speaking outside the district court, the 58-year-old, who cannot be named for legal reasons, said he was devastated by the ruling.
"She's not my daughter as far as the law is concerned. The laws are totally inadequate, there are no laws to protect people like me," he said.
'Considerable sympathy'
It is thought to be the first time that a sperm donor in Australia has had his name forcibly removed from official documents, says the BBC's Phil Mercer in Sydney.
The father had responded to a newspaper advertisement by a lesbian couple seeking help to conceive a child.
A baby girl was born in 2001. The mother's partner said she wanted her name on the birth certificate to avoid "confusion with schools, hospitals and government departments".
Although he expressed sympathy with the man, Judge Stephen Walmsley said the sperm donor had no parental rights under Australian law.
"As (the sperm donor) concedes, there was no agreement before the birth that he would be on the register when he agreed to donate his sperm.
"I have considerable sympathy for (the man) - he has done what he considers has been his very best for the child," the judge said.