Philippines Maguindanao governor survives bomb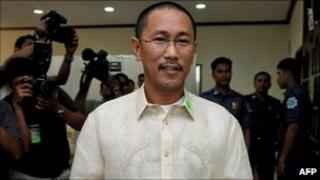 A Philippines regional governor, whose wife was killed in a 2009 massacre, has escaped unhurt after a car bomb was detonated near his motorcade.
Esmael Mangudadatu said he was shaken but unhurt after the explosion.
One person was killed in the attack in the southern city of Tacurong. It was unclear if Mr Mangudadatu was targeted.
Mr Mangudadatu's wife and his pregnant sister were among 57 people killed in the 2009 massacre - the worst political mass killing in Philippine history.
The dead included more than 20 journalists.
Several members of a rival clan, the Ampatuans, are among almost 200 people currently on trial accused of involvement in the massacre. They deny the charges.
Mr Mangudadatu, who is governor of Maguindanao province, told reporters on Monday he had been on his way to celebrate his birthday when the explosion occurred.
"The very powerful bomb was intended for me," he said, adding that he had survived because he was travelling in a bullet-proof vehicle.