Activist Wang Lihong faces China trial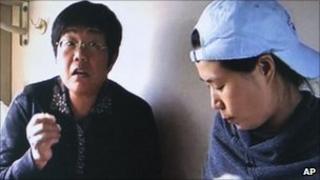 A Chinese activist has gone on trial in Beijing in what appears to be part of a continuing crack down on dissent.
Wang Lihong, who was arrested in March, is charged creating a disturbance after attending a demonstration in support of a group of detained bloggers.
Despite a heavy police presence, dozens of people turned up at the 56-year-old's hearing to show their support.
Scores of activists, lawyers and campaigners have been targeted by the authorities over recent months.
Many believe the government fears the political unrest in the Middle East will spread to China, where rights are similarly curtailed.
'Cut short'
Wang Lihong pleaded not guilty in a trial that lasted just a few hours. Short trials like this are not unusual in China.
Wang's lawyer, Han Yicun, said he had not had enough time to present a proper defence.
"When Wang and I tried to give evidence we were interrupted on numerous occasions and cut short," he said, speaking after the hearing.
Mr Han said he expected a verdict in the next few weeks, but he was not hopeful of an acquittal.
"This case has been politicised so it's unlikely Wang Lihong will by freed," he said. The maximum sentence for this crime is five years.
One of those outside the Beijing courthouse for the trial was Zhao Lianhai, who campaigns for families whose children were poisoned by tainted milk powder. His own son was affected.
"Many people went to express their feelings - we don't like the injustices happening in China today," he said.
According to rights group Amnesty International, Wang Lihong spent her time giving support, advice and occasionally money to people with their own grievances.
Some see her prosecution as part of a wider crackdown on dissent after calls for a "jasmine revolution" in China.
These came after political upheaval in the Middle East and North Africa.
"My mother is just an example. The authorities want to show what will happen to someone who defies the system," said her son, Qi Jianxiang, after the trail.
Mr Qi, who attended the hearing, said his mother looked frail and thin.
The activist was detained in March. Her charge relates to a demonstration she attended in Fujian province to support three bloggers accused of defamation.