China parking row sparks clashes in Qianxi, Guizhou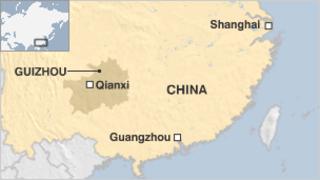 Residents in one of China's poorest provinces have clashed with police in a row about parking rules, reports say.
Crowds came out in Qianxi, Guizhou province, after local officials apparently shoved an elderly woman who had parked her motorbike illegally.
Reports say hundreds of people rioted, setting fire to cars belonging to the local government, blocking off streets and injuring several police officers.
Chinese towns regularly experience short-lived outbreaks of unrest.
The anger is often directed at local officials.
Last month, rumours that the death of a fruit seller was down to mistreatment by local officials sparked a mass riot in Anshun, about 60km (40 miles) from Qianxi.
News reports of the latest incident say crowds gathered outside the Qianxi local government building on Thursday afternoon after rumours of the parking row spread.
The crowds then began to wreck cars belonging to local officials and attacked police, the state-run Xinhua news agency reported.
Police arrested 10 people, and the rioting and been quelled by Friday morning, officials told Xinhua.
Analysts say such incidents are on the rise in China, and provide one of the most pressing challenges to the rule of the Communist Party.