Burma government offers Suu Kyi's NLD 'reconciliation'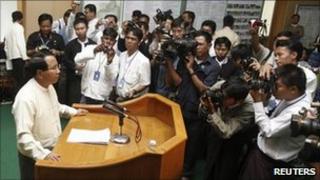 Aung San Suu Kyi's NLD movement should join Burma's "national reconciliation", the government has said in its first-ever news conference.
Information Minister Kyaw Hsan told the briefing the government was handling the NLD "delicately and carefully".
Ms Suu Kyi has met government officials twice recently, in an apparent sign of improving relations.
The NLD, long derided by Burma's former military rulers, was declared illegal after boycotting last November's vote.
The election brought to an end almost 50 years of military rule in Burma.
But local and international observers dismissed the poll as a sham designed to entrench the power of the army, which remains the most powerful institution in the country.
'National reconciliation'
Kyaw Hsan, who is head of a new team that the government calls "spokespersons and information", spoke of the NLD in unusually conciliatory terms on Friday.
"In view of national reconciliation, the government is delicately and carefully handling the issue of the NLD, which has no legal right to exist, offering it opportunities to serve the national interest in cohesion," he said.
"If the NLD wants to get involved in politics, it should set up a legal party through formal procedures. Anyhow, the government is doing its best to invite NLD to its national reconciliation process."
Also on Friday, Ms Suu Kyi met Labour Minister Aung Kyi for about an hour in Rangoon - the second such meeting in recent weeks.
Following the meeting they released a statement promising "constructive co-operation for the continued progress of democracy and further development of economic and social situations".
Ms Suu Kyi is due to leave Rangoon on the weekend for a political meeting in the Bago region, about 50 miles (80km) from the former capital.
It will be her first political trip outside Rangoon for years.
Her last political tour in 2003 ended in tragedy when gangs allegedly sponsored by the military regime attacked her convoy and killed several NLD supporters.
Ms Suu Kyi was taken into "protective custody" and remained in detention for most of the following seven years.
The NLD has borne the brunt of military repression since it won a landslide victory in a 1990 election arranged by the military.
Ms Suu Kyi's party was never allowed to take power.