Chinese questions remain over Wenzhou rail crash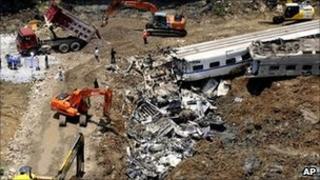 China has suspended all of the country's new high-speed railway construction projects nearly three weeks after a fatal crash involving two bullet trains in Wenzhou.
China's State Council said the safety of new projects would be re-evaluated before approval could be given.
The government's handling of the Wenzhou crash, which killed 40 people, had caused widespread anger.
Here, BBC News website readers in China give their reaction to the government's actions since the crash.
Li Chen, Hefei Anhui
I have used the high-speed railway so many times that I cannot remember the exact number.
In my opinion, there is no better way to travel around the country.
Nearly everyone who travels using the high speed railway shares the same feelings - it's comfortable, smooth, and fast.
And even if our Chinese high speed railway faces more difficulties in the next few months, it will still be my preferred means of travel.
However I haven't been able to find as much information as I would like about what happened in Wenzhou.
The China Railway High-speed (CRH) system asks every passenger to provide their identity when they buy tickets, which means that the railway department should have no difficulty in finding out how many passengers were on these two trains and reveal their names to the rest of the country.
What makes me very angry is that the leaders of this department want to avoid taking responsibility for what happened.
On Thursday I read that the State Council is going to exclude the railway department from the investigation team.
We Chinese still have not had answers about this crash, and the reason that the department has offered for that seems a little absurd.
I'm still concerned about the rescue process. I really want the department to explain why they buried the coach, why they cleared the accident site so quickly and why our so-called high technology CRH system has so many fatal weaknesses.
The only reason that people have such angry feelings is that we want our government to remain unblemished, but the Chinese government still doesn't know how to use the internet properly, so some people try to do their best to slander our party and government.
But there is no evidence to show that our government tried to lie to us. Most people believe our government - especially when premier Wen Jiabao came to visit the site.
China is such a huge country and there are a lot of accidents every day - many of which kill more people - last month an accident on the highway near Xinyang killed 45 people.
The state of the Chinese economy means that most people need to travel by train, at the same time, the development of the railway ticketing system means many people find it hard to get tickets to use the trains.
Nearly every Chinese person feels unhappy about the railway department.
Just days before this accident, the Beijing-Shanghai high-speed railway system went wrong, it went wrong so often that people began to question this system. I think the fact that there has been so much negative discussion about this accident just reflects people's anger with the entire system.
I don't think it will be long before we get a satisfactory answer.
Xu Yujie, Suzhou
Whenever I work at Pudong International Airport, I usually take the CRH because it is convenient, quick, and safe.
However, after the accident last month, I think I would prefer to take a bus or a slow train rather than the CRH. I believe other Chinese people share the same feeling.
After the accident, Chinese journalists faced obstacles as they tried to disclose all the facts about the accident.
We didn't get enough information about why the accident happened, or the number of casualties because the government was not willing to give the public any explanations.
Maybe they didn't know the reason why or it was something they couldn't tell us because of politics - but that means there is no transparency at all. As Wang Yongping spokesman of railway ministry, said to the public, "Believe it or not, I believe it".
The public's reaction to this has been different to when there has been a natural disaster like the Wenchuan earthquake. Then, our government and army were highly praised and complimented by people home and abroad.
But when it comes to a man-made disaster, it will always be the same story.
Some senior officials will be suspended but may get another position elsewhere later on.
It is normal for people to be treated differently in China and told different things.
We, the people, are angry with a lot of things, but what can we do? Nothing. We must accept it.
More comments
I live a relatively short distance from the site of the crash, and have travelled many times on that train. While I am, of course, concerned about safety issues, one should not take them out of context. I see car crashes every day - blood on pavement, smashed motorcycles; a lot more than 40 people die in these crashes every week in my city alone. And yet that knowledge will hardly prevent me from walking on the street or riding my motorcycle. I will continue using these trains, unless the introduction of new speed limits will force me to opt for buses instead, which are hardly any safer. SSR, Ningbo
As a Chinese person, I feel it is now the right time to adjust the speed of China's development. It used to be too fast and everyone seemed satisfied with the "economic boost". However, high-speed development could result in another tragic story like the railway project. Now it's time to slow down, and both our government and people need to think about culture and spiritual development. Stephanie Yin, Shanghai
Like many other projects in China, the high speed rail project is just nothing but a kind of propaganda... Every year the government invests trillions of dollars into such projects while people in the country are becoming poorer and poorer. Ray Wong, Hangzhou
China's high-speed rail projects should be stopped right now. I travel by train once or twice a year, and my friends complain that the cost of a high-speed rail ticket is too expensive, so the government using a lot of money to create high-speed rail is not helpful for everyone. The railway has benefited from cheap the lending rates state-owned enterprises can offer, although funding for private enterprises is still hard to get. Long Jie, Shenzhen
I have been living and working in China since 2008. I have used the high speed train links on numerous occasions and never had a problem. The link between Shenzhen and Xiamen is due to open soon and will be very useful for me. I'm hoping this unfortunate accident doesn't delay it. Nick Rockliffe, Xiamen
This cannot solve the root cause of the problem; halting the project is not enough, the right thing to do is to change the system and hold officials accountable for the disaster. Brent Loo, Beijing