Thai PM Yingluck Shinawatra unveils new cabinet line-up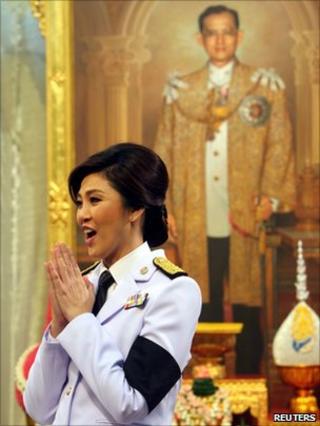 Thailand's new Prime Minister Yingluck Shinawatra has named her first cabinet.
The 35-member team, which has been given royal approval, is dominated by members of her own Pheu Thai party with some posts going to coalition partners.
But the economic portfolios have gone to financially experienced figures seen as politically neutral.
Ms Yingluck's party won a commanding victory in last month's election, and she leads a six-party coalition which dominates parliament.
Unsurprisingly the new government is dominated by the party that won most seats in parliament - the party led by Yingluck Shinawatra.
The 44-year-old is now Thailand's youngest and least experienced prime minister, and it seems with her cabinet picks she has opted to play it safe.
The new finance minister Thirachai Phuvanatnaranubala was, until last week, head of Thailand's financial watchdog so is well-known to the business community.
Yuthasak Sasiprapha, the new defence minister is, as always, a former army general whose job will be to build bridges with a military which removed Ms Yingluck's brother, Thaksin Shinawatra, from power in a 2006 coup.
There is no place in the cabinet for leaders of last year's street protests, who have now been elected to parliament.
Ms Yingluck in large part owes her election victory to the support of the "red-shirt" mass movement. But promoting a red-shirt leader to cabinet might well have provoked the Shinwatra family's many enemies.
The only slight surprise is the choice of foreign minister, Surapong Towijakchaikul, a man with little known expertise in diplomacy, but who is related to the Shinawatras by marriage.
Overall this appears to be a "do no harm" cabinet, balancing the demands of junior coalition partners with expertise in key areas.
Ms Yingluck has asked for six months grace before her new government is judged. Given the turbulent nature of Thai politics, its unlikely her honeymoon will last that long.