Koreas exchange fire twice near Yeonpyeong island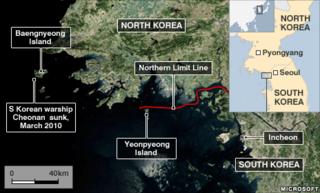 South Korea's navy has fired warning shots towards North Korea after shells from the North fell near their tense maritime border in two separate incidents, South Korean officials say.
They say three artillery shells landed off the South's Yeonpyeong island in the Yellow Sea, and that more rounds were fired later in the day.
It is not clear on which side of the border they fell.
Last November the North fired shells at Yeonpyeong, killing four people.
South Korean defence officials said the first incident on Wednesday might have been a training exercise by the North. There has been no comment from North Korea.
The South's response-in-kind follows strong criticism for failing to react with force to the attack on Yeonpyeong last year.
Pyongyang said at the time that it had been provoked by military exercises being held by the South close to the island.
The incident triggered outrage in South Korea, which increased troop numbers on Yeonpyeong and said it would respond more forcefully in the future.
The crisis came months after the sinking of a South Korean warship, the Cheonan, widely blamed on North Korea.
The two countries technically remain at war following the Korean War of 1950-53 .