World Bank blocks Cambodia loans amid Boeung Kak row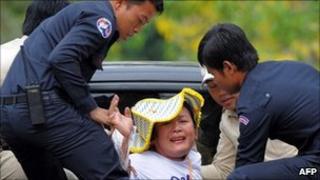 The World Bank has stopped loans to Cambodia amid a dispute over the forced evictions of thousands of people.
The organisation, which provides up to $70m (£43m) in loans for Cambodia each year, said it would not resume lending until the government settles the row.
Ministers have allowed a property developer to fill in a huge lake in the middle of Phnom Penh to build luxury flats and upmarket shops.
The development has destroyed villages and forced thousands from their homes.
Many more still face eviction, as the building project gathers pace.
Loans 'no longer appreciated'
The World Bank presided over a programme in Cambodia which was intended to give people legal entitlement to the land they were living on.
But the organisation admitted earlier this year it had failed to secure land rights for the people living on Phnom Penh's Boeng Kak lake.
"The World Bank's last loan to Cambodia was in December 2010," said the bank's Annette Dixon in a statement.
"Until an agreement is reached with the residents of Boeung Kak Lake, we do not expect to provide any new lending to Cambodia."
The BBC's Guy De Launey in Phnom Penh says the World Bank's move reflects a sense of responsibility for a situation that has the potential to result in Cambodia's largest ever mass eviction.
However, Cambodia is one of the latest recipients of a huge influx of investment from Chinese firms, making it less reliant on loans from international bodies.
The Inner Mongolia Erdos Hongjun Investment Company, one of the firms behind the development of the lake, has pledged to spend $3bn in Cambodia.
Government spokesman Phay Siphan said the government had already stated late last year that it "no longer appreciated" the loans from the World Bank.
"The bank is not a proper help to Cambodia in the cause of development," he told AFP news agency.