Thailand's king endorses Yingluck Shinawatra as PM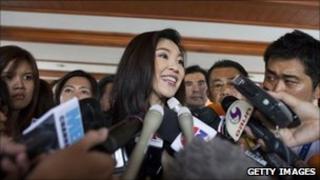 Thailand's king has endorsed Yingluck Shinawatra as prime minister, allowing her to formally take the post.
Ms Yingluck's party won a commanding victory in last month's election, and parliament supported her candidacy as prime minister in a vote last week.
She leads a six-party coalition which dominates parliament, and is expected to name her cabinet this week.
Ms Yingluck, 44, is the youngest sister of Thaksin Shinawatra, who was ousted as prime minister in a 2006 coup.
Mr Thaksin dominated the election campaign and is said to control Pheu Thai, the party Ms Yingluck leads.
Ms Yingluck, whose late entrance into the election race as Pheu Thai's number one candidate wrongfooted her opponents, has denied her brother will control policy direction.
She declined to disclose the names of any ministers on Monday, but said the cabinet would include four people from outside politics.
"Now we've discussed this with coalition parties and completed almost 80% of the cabinet list," she told reporters.
Pheu Thai's campaign offered generous spending pledges aimed at currying favour with poorer people and voters in rural areas.
She now faces a challenge to meet those pledges, with analysts saying many of her promises were unrealistic.
She also has to deal with a powerful lobby of former red-shirt protesters who helped her to power.
Many of them are demanding a full inquiry into last year's bloody crackdown on their Bangkok protest, when dozens of people died.