Australian court halts Malaysia asylum plan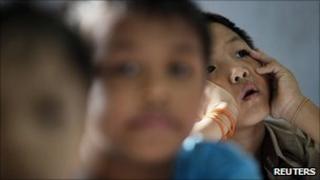 Australia's High Court has stopped the authorities from deporting a boat-load of asylum seekers to Malaysia.
Lawyers for the group of refugees argued that their transfer to Malaysia would be illegal.
Judges ruled there was a "sufficiently serious question", and ordered a halt to such transfers until a full hearing can be held later this month.
The ruling could jeopardise Australia's deal to send 800 asylum seekers to Malaysia over the next four years.
Under the deal, which was signed last month, Australia would take 4,000 refugees who have already been processed in Malaysia.
But critics say refugees are often mistreated in Malaysia, which has not signed the UN Refugee Convention.
'No protection'
The refugees seeking the legal injunction were the first to be targeted under the agreement, which was signed last month.
The Afghans and Pakistanis were picked up in Australian waters and taken to Christmas Island, which hosts a controversial facility where hundreds of asylum seekers are kept in detention while their claims are processed.
Their lawyer, David Manne, told the BBC that they wanted to seek protection as refugees in Australia.
"What they are asking is for the High Court to rule on whether the government in Australia really has that power to expel them to Malaysia, where they fear that they wouldn't be properly protected," he said.
High Court Justice Kenneth Hayne ruled there was a "sufficiently serious question" for the case to have a full hearing, ordering a temporary injunction on the transfers.
Immigration Minister Chris Bowen said he had expected a legal challenge to the government's policy - dubbed the Malaysia Solution.
"I'm confident that when the full bench considers the case, the injunction will be lifted, the transfer will occur, and the arrangement will be implemented," he told a news conference in Canberra.
Australia currently has more than 6,000 asylum seekers in detention originating from countries including Iran, Iraq, Vietnam, Sri Lanka and Afghanistan.
The Malaysia plan would deal with only a small proportion of those arriving in Australia by sea, but the government believes it would send a tough message to people-smugglers and potential migrants.
The UN has previously criticised Australia for holding all asylum seekers in detention centres while their applications are assessed.