Bruce Lee fur-lined coat sold at Hong Kong auction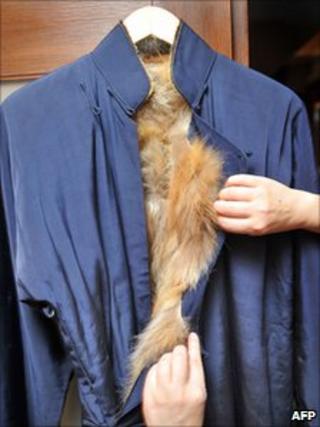 A fur-lined coat once owned by martial arts film star Bruce Lee has sold at auction in Hong Kong for almost nine times the expected price.
It was bought by a US couple for HK$600,000 (US$77,000; £47,000).
The coat was worn by Lee in 1973 for the filming of Game of Death - which remained unfinished as Lee died later that year at the age of 32.
Twelve other items, including a letter and a name-card, also went under the hammer, raising a total of HK$1.7m.
The items were all being sold by a private collector in what was the largest-ever auction of Bruce Lee memorabilia.
The coat was worn by Lee for pre-publicity photo shoots and to the Hong Kong premiere of his best-known film, Enter the Dragon, shortly before his death.
Silvana and Greg Manning, the US couple who won the auction, said it was "a unique item and a memorabilia for an iconic figure".
'Challenge the unlimited'
"Bruce Lee is worldwide recognised as one of the most important people in the martial arts field," Reuters news agency quoted Mr Manning as saying.
"He really pioneered the film genre and we respect him as a human being and a person for his work and his art and for what he did."
A two-page letter Lee wrote to his friend Taky Kimura in 1966, in which he talked about filming his TV show The Green Hornet, sold for HK$40,000.
Albert Wong, a Hong Kong businessman who bought several items, said Lee had taught him to "challenge the unlimited".
"He also tried his best to search for excellence," Mr Wong told reporters.
Bruce Lee is widely considered to have been one of the greatest martial arts stars and is credited with bringing Kung Fu into the mainstream.
He remains hugely popular especially in Hong Kong, where he grew up before moving to the US.