Tropical storm Muifa hits Chinese mainland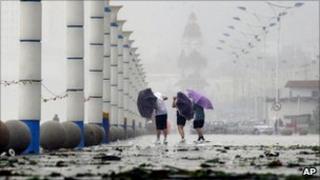 Tropical storm Muifa has lashed China's north-east coast, creating a surge in waves and threatening to breach a dyke protecting a chemical plant.
Soldiers managed to seal the dyke at Dalian, in Liaoning province, which protects the Fujiahua chemical plant.
The full force of Muifa, downgraded from a typhoon, missed Shanghai, but power to at least two residential areas was briefly lost.
Heavy rain was also expected in western areas of North Korea, reports said.
The storm also downed trees and electricity poles in South Korea, leaving thousands of homes without power.
Many domestic flights between Seoul and the island of Jeju have been cancelled.
In China, more than 300,000 people were evacuated and thousands of ships called ashore or told to remain in port as the storm passed.
Muifa has already left four people dead in the Philippines and 27 injured on the Japanese island of Okinawa.
Power cuts
China's Central Meteorological Station reported coastal winds up to 46.6 mph (75km/h) in Liaoning and Shandong provinces and heavy rain in Liaoning on Monday afternoon.
More than 1,000 firefighters, troops and border guards worked to fill the breach in a dyke near the Fujiahua plant with concrete and rocks, according to the People's Daily website.
The official Xinhua news agency said the storm had destroyed nearly 170 homes and caused damage estimated at 1.9bn yuan ($290m; £176m) in the eastern province of Zhejiang.
A 24-year-old man was also reported missing while swimming in heavy surf in the city's Jinshan district, local TV reported.
In addition to evacuating residents and calling ships back to harbour, the authorities cancelled more than 200 flights and closed two bridges to outlying islands.
Train and bus services were thrown into disarray.
Heavy rain is also forecast for parts of North Korea, which suffered flooding late last month.
About 30 people died, thousands of homes were destroyed and farmland was badly damaged, state media say.