Philippine President Benigno Aquino meets Muslim rebels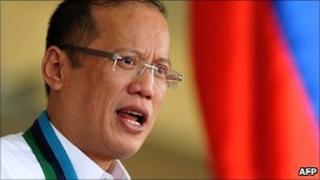 Philippine President Benigno Aquino has met the chief of the country's main Muslim separatist group, the government has said in a statement.
Mr Aquino met Murad Ibrahim, of the Moro Islamic Liberation Front, in Tokyo with the aim of pushing forward the peace process.
"Both agreed to fast track the negotiations," the statement said.
The MILF has fought for self-rule in the predominantly Catholic country's southern Mindanao region since 1977.
An estimated 120,000 people have been killed in the conflict, which has almost been resolved on several occasions.
A fragile ceasefire has been in place since 2003.
The government said it was the first time a Philippine president had met with the MILF chairman in 14 years of on-and-off peace negotiations.
Delegates from Mr Aquino's peace panel met MILF representatives in the Malaysian capital of Kuala Lumpur in February.
One of Mr Aquino's key pledges ahead of his election last June was to try to negotiate peace with the country's various insurgencies.