China arrests 2,000 people in food safety crackdown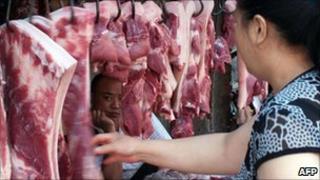 China has arrested 2,000 people and shut down nearly 5,000 businesses in a clampdown on illegal food additives, after a series of food safety scares.
The campaign was launched in April after scandals from glow-in-the-dark meat to buns injected with dye to make them look like a more expensive kind.
Nearly six million food-related businesses have been investigated.
Police have also destroyed a series of "underground" sites for the illegal manufacture of such food products.
Milk formula
A Food Safety Commission statement also said government agencies across the country would continue the drive, and that anyone caught breaking the law would "be severely punished".
Food safety scandals in China have badly damaged consumer confidence in recent years, particularly in the dairy industry.
The Chinese authorities enacted strict policies to ensure food safety after infant milk formula containing melamine killed at least six babies and made 300,000 children ill in 2008.
The industrial chemical had been added to dairy products to make them seem high in protein.
It led to product recalls across the globe, and further damaged China's reputation for producing safe and reliable products.
Earlier this year, China's quality inspection agency shut down nearly half of the country's 1,176 dairies as part of a campaign to clean up the dairy industry.
There has also been a directive from the Supreme Court calling for the death penalty for cases in which people die as a result of poor food safety.
But the BBC's Martin Patience in Beijing says regulations are often flouted in China, and with food price inflation rising, some producers will continue to cut corners in order to fatten up the bottom-line.