China angered by Japan's defence paper warnings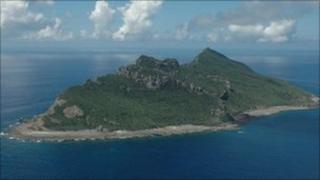 China has criticised Japan for a report warning against China's growing naval power, calling it "irresponsible".
China's foreign ministry expressed its "strong dissatisfaction" with the annual paper from Japan's defence ministry, released on Tuesday.
A statement from China's foreign ministry asserted that China's military modernisation was purely for self-defence and targeted no other country.
A major security re-alignment is under way in Asia as China strengthens.
This has prompted concerns from Tokyo to Jakarta, and from Canberra to Washington, about China's claims to islands and seas across Asia, given its growing ability to defend itself.
China insists its rise will remain peaceful however.
"The Japanese 2011 defence white paper made irresponsible comments on China's national defence construction.
"China expresses its strong dissatisfaction," the foreign ministry said in a statement late on Wednesday.
Japan warning
China's defence and military modernisation drive does not target any other country and is solely for safeguarding its own sovereignty, security and territorial integrity, Foreign Ministry spokesman Ma Zhaoxu said in the statement.
Mr Ma repeated China's stated commitment to solving disputes through bilateral negotiations and to continue peaceful development.
"I hope Japan can learn from the past, seriously reflect on its own defence policy and do more to deepen mutual trust with neighbouring countries, maintain regional peace and stability, not the contrary," he said.
Japan's annual defence report had warned that China's naval forces were stepping up their activities in the East and South China Seas, and the Pacific.
Japan was taking measures to bolster its coastal defences as a result of China's growing presence, it said.
The report also warned of the danger of cyber attacks and said North Korea's nuclear and missile projects posed serious threats to national security.
"Given the modernisation of China's naval and air forces in recent years, its sphere of influence is likely to grow beyond its neighbouring waters," it said.
"China plans to expand its sphere of maritime activities, carrying out operations and training as an ordinary routine practice in waters surrounding Japan."
Areas for potential conflict with China's navy included the "East China Sea and the Pacific Ocean, as well as the South China Sea", it added.