Japan sacks three nuclear power officials in shake-up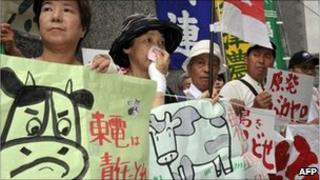 Three men in charge of nuclear power safety and policy have been sacked amid the ongoing crisis at the tsunami-hit Fukushima Daiichi nuclear plant.
Japan's Trade and Industry Minister, Banri Kaieda, said the three senior officials would be held responsible for mishandling the plant and its problems.
Radioactive material is still leaking from the plant nearly five months on.
The crisis has also brought to light the close links between the government and the power industry.
Those sacked are the head of the nuclear safety agency, Nobuaki Terasaka, the head of the agency for natural resources and energy, Tetsuhiro Hosono, and the vice-minister for economy, trade and industry, Kazuo Matsunaga.
Mr Kaieda, who played a key role in handling the Fukushima crisis, has also said he plans to resign to take responsibility.
But he has not said when he will do so, despite a tearful confrontation with opposition lawmakers.
Shake-up
"I'm planning to breathe fresh air into the ministry with a large-scale reshuffle," Mr Kaieda told a news conference.
"This is what I've been thinking for about a month. I'll have new people rebuild the ministry."
There are also plans to establish a new and independent atomic safety regulatory body.
The BBC's Tokyo correspondent Roland Buerk says that until now the trade and industry ministry has been responsible not just for safety, but also promoting nuclear power.
Prime Minister Naoto Kan has recently said the country must shift towards alternative energy sources.
Meanwhile Japan is facing shortages of electricity because two-thirds of nuclear reactors are offline.
Local communities are refusing to give permission for them to be switched back on after routine maintenance.
Our correspondent says confidence has been further shaken by revelations that a power company had instructed its employees to pose as ordinary members of the public to send emails backing restarts to a television debate on nuclear safety.
The sackings came a day after Japan's parliament approved a plan to set up a new fund to help the Tokyo Electric Power Company (Tepco) compensate people affected by the crisis.
About 80,000 people living with 20km (12 miles) of the Fukushima plant have been forced to abandon their homes. Farmers and others business owners further afield have been ruined.
As a result, claims are expected to run into billions of dollars.
At the Fukushima plant itself, workers are still trying to bring the reactors under control by January at the latest.
Earlier this week, Tepco said hotspots had been discovered on an exhaust pipe from the buildings, showing the highest levels of radiation recorded since the crisis began.
To see the enhanced content on this page, you need to have JavaScript enabled and
Adobe Flash
installed.