Australia bomb hoax 'was extortion attempt'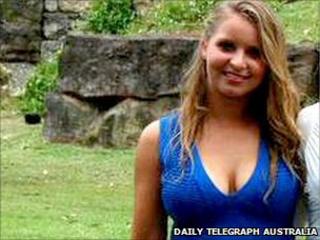 An Australian teenager who endured a 10-hour ordeal with a fake bomb strapped to her neck was the victim of an extortion attempt, police say.
An intruder apparently entered the home of Madeleine Pulver, 18, and fastened to her neck what appeared to be a bomb.
Police took 10 hours to remove the device, evacuating nearby streets in the wealthy Sydney suburb of Mosman.
They said the intruder left behind a note attached to the device that confirmed the motive was extortion.
No prime suspect
New South Wales Police Assistant Commissioner Mark Murdoch told journalists the device turned out to be "a very, very elaborate hoax".
"But it was made and certainly gave the appearance of a legitimate improvised explosive device. We had to treat it seriously until we could prove otherwise and that's exactly what we did and that's why it took so long."
The device was attached "by a chain or something similar," he told ABC radio.
The demands made on the note have not been revealed but New South Wales police Detective Superintendent Luke Moore said: "We are treating this as an attempted extortion - a very serious attempted extortion."
A police officer told Australia's Daily Telegraph newspaper the two-page handwritten note was pinned to Ms Pulver's chest and said the device would be detonated if police were called.
"While it was articulate and coherent, it didn't seem to have any specific demands,'' the officer was quoted as saying.
Associated Press quoted Mr Moore as saying police were trying to establish how the intruder gained entry to the house and they had not yet identified a prime suspect.
The Sydney Morning Herald said Ms Pulver was attacked in the kitchen of her home, where she was studying for exams.
BBC correspondent Nick Bryant says police were baffled by the device, saying it was very sophisticated and very confusing.
Bomb disposal experts used X-ray equipment to gain a better sense of precisely what they were dealing with, and even sought assistance from the British military.
Young officer praised
During the operation, several streets were cordoned off in Mosman, one of Sydney's wealthiest suburbs on the city's lower north shore. Ambulances and fire crews rushed to the area.
Four people remained in the room with the schoolgirl during the operation, two bomb disposal experts and two police negotiators trying to keep her calm.
Ms Pulver was later taken to hospital for checks before being released on Thursday and is now recovering with her parents.
AFP news agency said the teenager's father, William Pulver, was a successful businessman who was chief executive of a linguistic solutions software company.
Mr Pulver told reporters that Madeleine was "in pretty good spirits".
He said: "She is a little tired and a little sore from holding this damn device in place for about 10 hours but she is now, as we are, eager to get on with her life."
He praised the emergency services for their work on the case.
"Maddy particularly wanted to thank those two officers who spent many long hours sitting with her, showing little regard to their personal safety in her immediate vicinity last night," he said.
Mr Murdoch praised a young policewoman who was first on the scene, The Australian newspaper reported. He said two general duties officers went to the house after Ms Pulver's parents called police.
"What they saw was a very distressed young lady with what we believed to be at the time an improvised explosive device attached to her body," Mr Murdoch told Fairfax radio.
A young female officer, Constable Karen Lowden, stayed with Ms Pulver for the first two hours while the other officer organised other resources and evacuated neighbours, he said.
"She was not wearing any protective clothing or equipment, she wasn't trained as a negotiator, but she made the decision herself, this young officer, to stay with Madeleine and make sure she tried to remain calm and she wasn't left alone, provided moral support for her, and she did an outstanding job in that regard."
New South Wales Police Commissioner Andrew Scipione commended Constable Lowden for her "truly brave and selfless act".
Mr Scipione said he had spoken to the officer and congratulated her. "She is a humble, quietly-spoken woman who did not see herself as a hero," he said.
Australian Prime Minister Julia Gillard told Fairfax radio she was shocked by the case.
"When I looked at it this morning, the first thing I said was, 'It's like a Hollywood script - the kind of thing you would see at the cinema or on TV,"' she said.
"You would never expect it to happen in real life in Australia."