Australian woman freed after bomb drama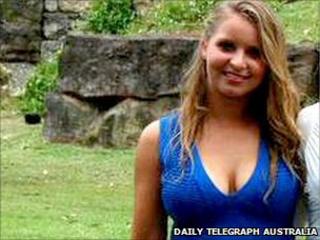 Australian police have freed a young woman after 10 hours of tense efforts to deal with a suspected bomb that was reportedly strapped to her body.
Madeleine Pulver, 18, called police from her home in a wealthy Sydney suburb at 14:30 (04:30 GMT).
The police said the device was "very elaborate, very sophisticated" but would not comment on media reports that it was part of an extortion attempt.
Ms Pulver was finally reunited with her parents just after midnight.
The BBC's Nick Bryant, in Sydney, says she had been studying for her exams when an intruder, wearing a balaclava, reportedly entered the house and placed a potentially explosive device around her neck.
There were also reports that the intruder had left behind a note.
Police said the process to remove the device was a delicate and painstaking operation and that they had sought the help of British bomb-disposal experts.
Wealthy suburb
New South Wales Assistant Commissioner Mark Murdoch said they were investigating who might have placed the device in the house, and their motive.
"You'd hardly think that someone would go to this much trouble if there wasn't a motive behind it. What that motive is, we are still not aware," he said. "We want to get our hands on who's done this."
He said the woman had had previous contact with the person who planted the device.
Bomb experts were still examining the device, he said, but it was still not clear if it was a viable bomb.
The police confirmed in a statement that the woman had been freed, adding that she would be taken to hospital for a check-up before being interviewed by officers.
Emergency crews had earlier evacuated nearby houses in Mosman, one of Sydney's wealthiest suburbs on the city's lower north shore.
Several streets were cordoned off, and ambulances and fire crews rushed to the area. Police said a forensic examination of the house would now begin "in earnest".