Essential reading for new arrivals in Australia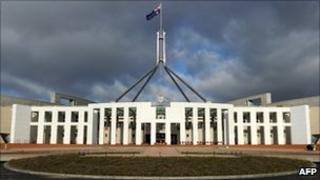 By this time next month, my Australian posting will have come to an end, and I will have handed the reins to my colleague Duncan Kennedy, formerly of the Rome parish. Between now and then, there will be more than enough time for a few farewells and final thoughts, but first there's the more humdrum task of the handover.
No doubt I will be passing on various logistical tips and pointers. Getting a satellite signal out of Perth, for instance, can involve lying prostrate on the ground in the public park next to the CBD with a receiver dish in one hand and a microphone in the other, a bodily feat that requires the kind of physical contortions that might test a Byron Bay yoga instructor.
Filming on the forecourt of Parliament House in Canberra involves getting a permit, the kind of paperwork we would normally expect to fill out in, say, Beijing or Pyongyang. I will offer advice on where to get the best coffee in Melbourne, on my favourite alfresco dining spot in Brisbane and my preferred brand of fly spray for stories in the bush and outback. Though I have never invested in an Akubra hat, it might not be a bad idea. As for budgie-smugglers, I'd be keen to hear your thoughts.
I won't bore you with any more logistics, but I'm keen to get your advice on an editorial question. Namely, what books would you recommend to a new arrival trying to get a quick handle on Australia. For help, I put this out to tender on twitter the other morning - @NickBryantOz, since you ask - and got a bookshelf full of advice.
Bill Bryson's Down Under, which is probably the most widely read book on modern-day Australia, was a popular choice, and one that I would endorse. There's the usual Bryson blend of wit, folksiness and sharp observations. That said, the American writer did not spend a huge amount of time in the country beforehand and, to some, it had the feel of a pre-Olympics quickie - published in 2000 just as Australia was about to bask in the international limelight of the Sydney games.
Robert Hughes' landmark history The Fatal Shore was another favourite. So, too, was Donald Horne's caustic polemic, The Lucky Country, which is arguably post-war Australia's most influential work of non-fiction. It is also the most misappropriated title of any Australian book. The "lucky country" was meant as a dig rather than a term of endearment.
On the fiction front, there were shout-outs for Tim Winton's much-loved Cloudstreet, Murray Bail's Eucalyptus, and Peter Carey's Booker prize-winning True History of the Kelly Gang. Helen Garner, Kate Grenville and John Birmingham were also popular choices. Birmingham's He Died with a Felafel in his Hand, which shamefully I have not read yet, is obviously a firm favourite.
Clive James's Unreliable Memoirs series, in its early instalments at least, falls somewhere between fiction and non-fiction - although some of James' best writing about his homeland, I would suggest, is to be found in his essays.
On politics, Don Watson's Recollections of a Bleeding Heart, his biography of Paul Keating, featured in the reckoning, as did Paul Kelly's March of the Patriots: the Struggle for Modern Australia. For Australian speechifying, the historian Michael Fullilove has helpfully gathered together a collection of the best and most eloquent in Men and Women of Australia: Our Greatest Modern Speeches.
Here is a kind of unofficial reading list from the Australian government, and I'd love to hear your recommendations.
Complex land
For what it is worth, here are some of mine.
To make more sense of Australia's ongoing culture wars, I would read Horne's The Lucky Country and Paul Sheehan's 1998 book Among the Barbarians. Horne serves up the left's critique of Australia - he captures the stultifying conservatism of the post-war years for a start. Sheehan, who writes a regular column for the Sydney Morning Herald, provides an insight into thinking on the right, and, among other things, offers an explanation of the rise of Pauline Hanson.
Robert Hughes's The Fatal Shore is certainly required reading. Geoffrey Blainey's A Shorter History of Australia is a useful primer. Given the importance of Gallipoli, the country's oft-quoted foundation story, Les Carlyon's stunning history should make it onto any shortlist.
I'd start with the acknowledgements: "Myths are charming; truths are more interesting and harder to find. In Australia, fact and myth about Gallopoli are interwoven so well that sometimes one cannot tell where one ends and the other starts."
One of the best recent histories I have read is Unknown Nation: Australia after Empire by James Curran and Stuart Ward. For a social history of Australia in the 60s and 70s, I always look out for books by the journalist Craig McGregor.
One of the best Australian sports books that I have read is The Summer Game by the peerless Gideon Haigh.
When it comes to fiction, Tim Winton's Cloudstreet is probably the must-read novel, although I thought Breath was brilliant at making sense of the joy and wonder of surfing to people who have never ridden a wave.
The list is by no means exhaustive. As soon as I press send, other books will doubtless spring to mind. But for any new arrival hoping to make more sense of this complex and confounding land, there are worse places to start.