Japan warns of rise in China's naval activities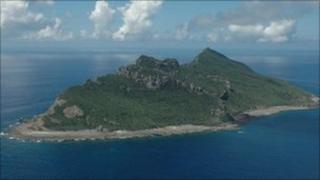 China's naval forces are stepping up their activities in the East and South China Seas, and the Pacific, Japan has warned in its annual defence report.
Japan was taking measures to bolster its coastal defences as a result of China's growing presence, it said.
The two countries are involved in a maritime dispute in the East China Sea.
The report also warned of the danger of cyber attacks and said North Korea's nuclear and missile projects posed serious threats to national security.
"Given the modernisation of China's naval and air forces in recent years, its sphere of influence is likely to grow beyond its neighbouring waters," it said.
"China plans to expand its sphere of maritime activities, carrying out operations and training as an ordinary routine practice in waters surrounding Japan."
Areas for potential conflict with China's navy included the "East China Sea and the Pacific Ocean, as well as the South China Sea", it added.
The report said Japan was increasing the size and strength of its submarine fleet, while strengthening its troops and the capability of its radars along its south-western coast, which are closest to Taiwan and the sea lanes the Chinese navy has been using most frequently.
The paper also warned that North Korea was developing a new mid-range ballistic missile that could reach as far as the US territory of Guam.
The Musudan missile was based on Russian technology acquired in the 1990s and was designed for launch from mobile platforms, it said.
It would have an estimated range of 2,500-4,000km (1,500-2,500 miles) - less than the multi-stage Taepodong-2 missile, which is thought to be able to reach the US west coast.
"Because of the secretive nature of the North Korean regime, it is extremely difficult to confirm its military intentions," the report said.
Earlier this week, North Korea said it was eager to return to six-party talks aimed at ending it nuclear programmes.