China police kill two suspects in Xinjiang violence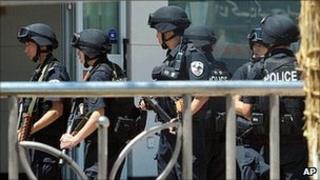 Chinese police have shot dead two men suspected of mounting a fatal attack in Xinjiang region on Sunday, the state-run Xinhua news agency reports.
The two ethnic Uighur men, Memtieli Tiliwaldi and Turson Hasan, were found hiding in a corn field on the outskirts of the city of Kashgar, Xinhua said.
Six people were killed in an attack at a restaurant in Kashgar. Police shot dead five suspects at the scene.
A weekend of violence left up to 18 people dead in the restive region.
Late on Saturday, two men hijacked a truck and drove it into a crowd of people, killing eight and injuring 28 others, according to the local government.
In the attack on Sunday, an explosion hit a restaurant west of Kashgar's central square.
Five men armed with knives then attacked police and bystanders, officials said. Six bystanders were killed and 12 were injured.
The weekend attacks bring to a close a violent month in Xinjiang. Less than two weeks ago rioters stormed a police station in the south-western city of Hotan, in an attack that left 18 people dead.
Xinjiang has been the scene of recent ethnic unrest involving native Muslim Turkic-speaking Uighurs, who are angered by what they see as heavy-handed rule from Beijing, and the increasing influx of majority Han Chinese.
In 2009, riots erupted in Xinjiang in which nearly 200 people died after tensions flared between the Uighurs and the Han.
Responsibility
Chinese officials blamed the weekend attacks on Uighur Islamic militants campaigning for an independent homeland from the East Turkestan Islamic Movement (ETIM).
They said the "terrorist" ringleaders had received training in making firearms and explosives in Pakistan.
"We will harshly attack any atrocities that threaten people's lives, defile the dignity of the law, and threaten supreme national interests," said the governor of Xinjiang, Nur Bekri.
The attackers followed "extremist religious ideology" and advocated "jihad", the government said.
It is often difficult to get information from a region which the Chinese authorities tightly control.
Rebiya Kadeer, president of the World Uighur Congress, which campaigns for self-rule for Uighurs, said: "I am saddened that Han Chinese and Uighurs have lost their lives. At the same time I cannot blame the Uighurs who carry out such attacks for they have been pushed to despair by Chinese policies.
"I condemn the Chinese government for the incident. The Chinese government has created an environment of hopelessness that means it must take responsibility for civilian deaths and injuries caused by their discriminatory policies," Ms Kadeer said in a statement to Reuters.
The region's rich oil and gas deposits are vital to China's booming economy, and the government is hoping to develop Kashgar as a manufacturing centre.
But many Uighurs say they fear much of the region's wealth is going into the pockets of the Han Chinese.