North Korea 'keen' for six-party nuclear talks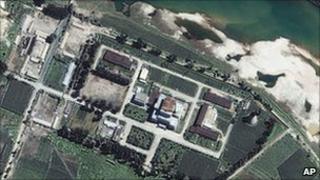 North Korea says it is eager to resume six-party talks on its nuclear programme "at an early date" and "without preconditions".
North Korea remained "unchanged" in its desire to restart the talks, a foreign ministry statement said.
Six-party talks involving North and South Korea, the US, Russia, China and Japan were last held in late 2008.
North Korea's statement came after two days of exploratory talks between the US and North Korea in New York.
The week before, North Korean officials met counterparts from the South on the sidelines of a security conference in Indonesia.
North Korea pulled out of the six-party talks in April 2009, shortly before carrying out a second nuclear test.
The North Korean statement said the government was ready to fulfil commitments it signed up to in 2005 to end its nuclear programme in return for energy and economic aid.
Following talks in New York on Friday, a US official said the path was open to better relations with North Korea, if the country was really committed to stopping its nuclear programme.