Earthquake jolts north-east Japan - no tsunami warning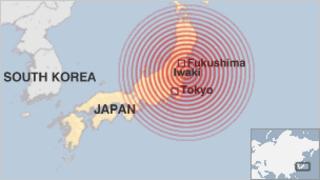 A 6.4 magnitude earthquake has been felt in north-east Japan, shaking buildings in the capital Tokyo, reports say.
The quake's epicentre was off the east coast of Honshu.
It struck in the same area as the 11 March earthquake and tsunami but no abnormalities at Japanese nuclear plants were reported, Reuters says.
There were no immediate reports of damage or injuries and no tsunami warning was issued.
More than 20,000 people died or were reported missing as a result of the disaster in March, which also crippled nuclear reactors in the Fukushima area.
The quake occurred close to Iwaki, with its centre around 100km (60 miles) south-south-east of Fukushima city.
It occurred at 0354 local time on Sunday (1854 GMT Saturday), at a depth of 44km (27 miles).