China's Wen Jiabao urges swift Wenzhou rail-crash probe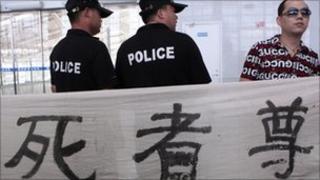 Chinese Premier Wen Jiabao has called for a swift and transparent inquiry into last weekend's fatal rail crash, amid rising anger over the accident.
Mr Wen also promised to take steps to improve safety on the high-speed rail network - one of the government's flagship projects.
The public has expressed outrage at the accident, which killed 39 people near Wenzhou on Saturday.
Many people believe the government has mishandled the aftermath of the crash.
The government, which has spent billions of dollars building the high-speed rail network, announced a two-month safety review on Tuesday, after already promising a full investigation into the crash.
Mr Wen told a cabinet meeting on Wednesday: "Great importance must be attached to finding out the facts and judging the responsibility in accordance with laws and regulations."
He promised that the government would then take "resolute steps to comprehensively strengthen safety".
The premier is due to visit the crash site on Thursday.
Sceptical
According to official explanations, Saturday's crash was caused when a train travelling over a viaduct was struck by lightning, knocking its power out.
As it stood motionless on the lines, another train crashed into the back of it and several carriages fell off the side of the viaduct.
But many in China have been sceptical of the official version of events, because shortly after the accident a diktat was circulated ordering state media not to investigate the causes.
State outlets were also told to focus on positive stories - such as that of two-year-old Xiang Weiyi, who was rescued from the wreckage. Her story was closely followed by state news agency Xinhua.
However, some official media have been highly critical of the government's handling of the crash.
The Global Times ran an editorial on Wednesday criticising the arrogance of officials, saying the railway ministry had failed to offer a proper apology.
"If such public relations disasters frequently happen, the official credibility of authorities will be gradually torn down," the editorial said.
China's main microblogging website, Sina Weibo, registered four million comments on the crash within 24 hours of the accident.
On Monday, the website asked in a poll how users felt the government had handled the issue - and the overwhelming majority of tens of thousands of people who responded said they were "very dissatisfied".
China plans to link remote parts of the country by high-speed rail and wants to sell its train technology around the world.
Alongside the safety concerns have been revelations of corruption and the sacking of senior officials.