Is Australia too obsessed with sport?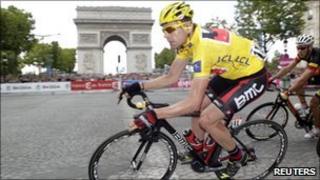 Travelling back on the train from a rugby match the other night, a young fella who had probably had more than a couple of medium-strength lagers decided to challenge the entire carriage to the Sunday Telegraph trivia quiz.
A real larrikin who was hilariously funny, he rattled off question after question as we all raced to be first with the answer.
"What is the chemical symbol for gold?" or some such.
"Who is the captain of the England cricket team?"
("Surely you mean 'Who is the Ashes-winning captain of the England cricket team?'" your correspondent helpfully pointed out.)
Then came a teaser that had all the Australians on board scrambling for their smart phones: "In which discipline did Patrick White win his Nobel Prize?"
Evidently, it was phone-a-friend time.
Next year, literary Australia will celebrate the 100th anniversary of the birth of arguably its greatest ever novelist. But not one of White's compatriots on board that carriage had heard of him. (This, I suspect, would have absolutely delighted White, a man who once complained of the "Great Australian emptiness", a land in which the "mind is the least of possessions".)
I mention this not so much to highlight the gap in literary learning amongst a carriage-load of fellow rugby fans, but rather to raise the question of whether sport gets way too much attention in Australia to the detriment of other national heroes.
Disproportionate attention?
For that railway journey came to mind early on Monday morning when the writer Mia Freedman committed the Australian blasphemy of suggesting that the national joy following the success of Cadel Evans in the Tour de France might have been a tad overblown.
"I just don't care," she said on Channel Nine's Today show. "I just don't get it." Then, she went further. "He's a man who's paid a lot of money to ride a bike," she said, to audible groans from the on-set production crew.
Predictably, Twitterland and the blogosphere erupted in fury: "Un-Australian" was the unimaginative cry. Some of the online abuse - much of it spewed up under the cloak of digital anonymity - was ugly in the extreme. Mia Freedman would probably have known that her comments would go viral and provoke a response, but not that it would have been quite so feral.
In the hours afterwards, she penned a blog on her website: "Are sportspeople heroes?" she asked. This is how she answered her own question: "I think pursuing a life doing something you're good at for the benefit of yourself is not heroic. It's not a BAD thing, I'm not dissing Cadel (of course not!) but the idea that a sports person should be idolised because they can ride far or jump high or swim fast is, to me, a bit odd.
"I guess I'm just flagging the fact that if you do well in sport, the country and the media stop to worship you in a way that doesn't happen to anyone else for doing anything else."
In a country for which sporting success is a key indication of national success, there's no doubt that sports stars get a disproportionate share of attention, adulation and, at times, disparagement. Needless to say, heroes abound in other walks of life who never make it onto the middle pages let alone the front or back.
This blog regularly cops flak for spending far too much time talking about sport - which is probably a fair criticism - although that's probably reflective of Australia's sporting bias.
Perhaps Mia Freedman's misfortune, however, was to hang this debate on the wrong sportsman. Not only had Cadel Evans just triumphed in one of the most grueling sporting events that has ever been devised, but he is the complete antithesis of the brash, celebrity-obsessed international sportsman.
He also has a big life outside of sport, having championed issues like the Free Tibet campaign. This is a bloke, it seems, who has things in perspective.
You could also argue that Australia does a fairly good job at celebrating the quiet achievements of people outside of sport. My hunch is that Cadel Evans will probably win Australian of the Year. His name will thus be added to a roll call of recent winners which includes a plastic surgeon, an immunologist, an indigenous leader and a psychiatrist.
True, two winners over the past 10 years have been sportsman. But like Cadel Evans, both Pat Rafter, the tennis star, and Steve Waugh, the cricketer, have a significant and altruistic life outside of sport. That was partly why they scooped the award. Tellingly, you won't find Lleyton Hewitt or Shane Warne on that list.
'Something terrible'
ABC's Australian Story is usually at its tear-jerking best when it features little-known people with extraordinary tales to tell. Sixty Minutes on Channel Nine, though much more celebrity-obsessed, often does the same.
This week the Book of the Year went to Anh Do, a Vietnamese refugee who is now a successful comedian. So it is not as if sportspeople can claim a monopoly on national acclamation.
As for the novelist Patrick White, I suspect he might have sympathised with Mia Freedman. This was how he greeted the news that he had received the award for Australian of the Year in 1973: "Something terrible happened to me last week.
"There is an organisation which chooses an Australian of the Year who has to appear at an official lunch in Melbourne Town Hall on Australia Day. This year I was picked on as they had run through all the swimmers, tennis players, yachtsmen."
UPDATE: Robustness. Humour. Civility. Cleverness. This strand has it all. We don't get the most comments on this blog - although I guess we could play the famed "per capita" card - but there are times when I think we attract some of the best. This is one of them.
How about this one for starters from "3145927": "Try asking a train full of British football fans about Kingsley Amis. They'll probably stab you. One of the many things I love about this country is that a) someone can stand up on a train full of sports fans and launch into a pop quiz without any fear of being walloped. b) that a smart-arse Pom - me - can start heckling him, again without fear of any aggro. And c) that sports stadiums here are not segregated. Fans supporting opposing teams sit side by side."
Jimmy B68 tugs at a similar thread: "If Nick was on a train coming back from the Sydney Writers' Festival his fellow passengers would all be waving their Patrick White flags and wondering who Cadel Evans is...."
Sossige notes: "If Australia wins at anything in sport it's headline news. If they lose it's not mentioned or hidden away discreetly; a subtle type of propaganda." Elegantly made point, but not true, I'd humbly suggest. When Australian teams lose they get absolutely hammered in the press, on the front pages and back. Just look at the coverage of the Ashes. It was merciless and prominent.
A lot of you think the sporting obsession is a major plus. Here's Qokka4: "The US idolised its film starts. The Pomms like their musicians. For us, its sport. Big deal. The Russians like Chess Players".
A number of you make the point that Australia is no more obsessed than Britain, India or Brazil (I've lived in the first two of those, and you have a point). Sports makes sense for many, then, but Richard asks: "Why Australia is so obsessed with Hollywood celebrity?"
"A better question might be," suggests Nully, "Is Britain obsessed with critiquing its former colonies? There is an obvious difference in how the British media report on countries that were once colonies, and those that were not. Perhaps the echoes of the filial relationship that once existed has become ingrained in British culture." It is a problem this blog has faced since its inception. To Australian ears, the British voice often sounds like a patronizing voice. It's the main occupational hazard, probably, of being posted here. I try to avoid it, so apologies if I don't always succeed.
"3145927" also opines: "It saddens me that the BBC promotes this false narrative that Australians are unusually uncultured." To be honest, I'd like to think this blog has tried to do the opposite of that.
willre13 thinks that is Australian intellectuals who are being condescending: "Unfortunately the leftist academia in Australia has always run down sporting achievement." Patrick White was among them: "If Patrick White had been a bit better at sport', notes Colmery, "he would have less grumpy, written even better books and more of his countrymen might have read them."
Sydney Cynic reckons the arts get a fair shake of the sauce bottle. "Margaret Olley [the artist] just died and she's receiving heaps of artistic accolades. Also, what about all the coverage the Archibald Prize receives? Gimme a break."
John Smith at #39 makes a good point that sport is often the gateway to celebrating other aspects of Australian life. With the America's Cup in 1983, it was design smarts and entrepreneurialism.
There were lots of other great comments, but perhaps we should leave the final word to JayBee: "I would love to live in a country obsessed with sport, fitness and health. Can anyone offer me a job in Oz. I'll do anything!"