Aung San Suu Kyi meets government minister Aung Kyi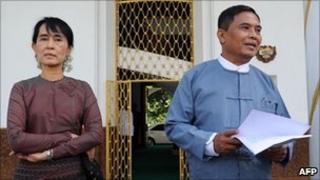 Burmese pro-democracy leader Aung San Suu Kyi has held her first formal meeting with a minister of the army-backed civilian government.
Labour minister Aung Kyi described the talks as positive.
He said the rule of law and ways to eliminate misunderstandings for the good of the people had been discussed.
Aung San Suu Kyi has often appealed for political dialogue, but the Burmese government recently warned her to stop all political activities.
The talks, which lasted just over an hour, took place at a state guesthouse in Burma's main city of Rangoon.
Aung San Suu Kyi had met Aung Kyi several times during her years under house arrest, in his liaison role under the previous military government.
This is the first known contact between the 66-year-old and the new, nominally civilian government since her release from detention in November, shortly after the country's first election in 20 years.
Raised hopes
With Aung San Suu Kyi standing beside him, Aung Kyi read out a statement saying: "Discussions were focused on possibilities for co-operating in the interests of the people.
"This included the rule of law and overcoming disunity, and matters that will benefit the public."
The meeting comes just a month after the government warned Aung San Suu Kyi to stop all political activities and cautioned against her travelling outside Rangoon.
But Aung San Suu Kyi recently went ahead with a trip to the town of Bagan and has continued to conduct interviews with international media and maintain close contact with international diplomats.
The BBC's South East Asia correspondent Rachel Harvey says the mere fact the government has renewed direct contact has raised hopes that perhaps the door to negotiation has been reopened.
News of the meeting leaked out after the US Secretary of State Hillary Clinton called for "concrete measurable progress" by the Burmese government, at regional security talks held in Bali on Saturday.
The true test of these talks will be to see if anything substantive emerges - or whether it turns out to be another carefully choreographed piece of window-dressing much in the manner of the Burma of old, our correspondent says.
Aung San Suu Kyi was excluded from the November elections held by the military rulers, and her political supporters boycotted it.
Military-backed parties won by far the largest number of seats; the ruling generals said the poll marked a transition to democracy, but opposition groups and Western nations condemned it as a sham.
Aung San Suu Kyi's National League for Democracy party won a resounding victory in Burma's elections in 1990, but was kept from power by the military junta.