Australia and Malaysia sign refugee swap agreement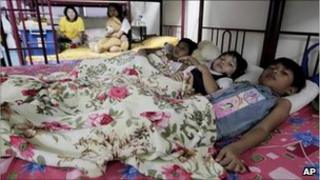 Australian and Malaysian officials have signed a controversial deal intended to stem the flow of asylum seekers travelling to Australia by boat.
The deal allows Australia to send 800 asylum seekers to Malaysia. In return, Australia will take 4,000 refugees from Malaysia over the next four years.
Australian Prime Minister Julia Gillard said it would "smash the business model of people smugglers".
But some rights groups in both counties have objected to the agreement.
Rights group Amnesty International has raised concerns that asylum seekers are routinely mistreated in Malaysia.
The group says refugees are "frequently caged in appalling conditions, exploited and caned".
Malaysia, which is home to tens of thousands of illegal migrants, is not a signatory to the UN Refugee Convention and has not ratified the UN Convention against Torture.
But Malaysia's Home Minister Hishammuddin Hussein, who signed the deal in Kuala Lumpur, said asylum seekers would be treated according to the UN refugee agency's international standards.
"The allegation that Malaysia is not fair toward refugees in this country is completely untrue," he said.
Ms Gillard also stressed that the asylum seekers would be treated properly.
"To ensure the welfare of the asylum seekers transferred, there will be an overseeing committee that will include members of the UNHCR [UN refugee agency]," she said.
The UNHCR, which was not a signatory to the deal, said in a statement it would prefer Australia to deal with migrants on its own territory.
Under the terms of the agreement Australia has agreed to pay all the costs of the transfers.
The extra 4,000 refugees Australia has agreed to accept are immigrants who are already in Malaysia.
The issue of asylum seekers has proved highly controversial for successive Australian governments.
Last week, refugee claimants held at the Christmas Island detention staged several nights of protests to demand better conditions and treatment.
Local media also reported in recent days a mass hunger strike at a Queensland detention centre, a roof-top protest at Darwin's detention centre, and the interception of another boat carrying 47 asylum seekers off the Australian coast.
Australia currently has more than 6,000 asylum seekers in detention, originating from countries including Iran, Iraq, Vietnam, Sri Lanka and Afghanistan.
The UN has previously criticised Australia for holding all asylum seekers while their applications are assessed.
The migrants are held for months at the Christmas Island centre, about 1,500 miles (2,400km) from the Australian mainland, and in other facilities.