Australia hails first Tour de France winner Cadel Evans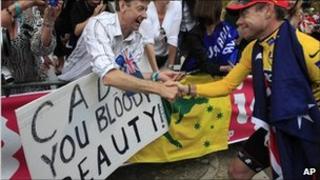 Australia has been celebrating its first-ever victory in the Tour de France, by 34-year-old Cadel Evans.
The cyclist's triumph has been compared to Australia's 1983 America's Cup win and the tennis victories of Rod Laver.
Evans had come close to winning the gruelling race before but was thwarted by injury and tough competition.
Prime Minister Julia Gillard called the cyclist to congratulate him, but she said no public holiday would mark his victory.
She referred to the sleep deprivation suffered by many Australians in recent days as the time difference between France and Australia meant fans had to stay up all night to watch the race.
"I believe I disturbed him while he was trying to get a nice, hot bath," said Ms Gillard of her congratulatory phone call.
"I suggested that he wasn't doing much good for national productivity because everyone was coming to work bleary-eyed. He suggested that it'd all be all right in the end because people would feel so full of morale that they'd be cantering into work and working harder.
"So I'm not in a position to announce a public holiday, but I am in a position to share Cadel's view that ultimately we'll be more enthused about our daily tasks because we're celebrating his victory."
Rename a bridge?
Evans' victory has brought plaudits from across Australia, dominating Monday's newspaper front pages, hailing Evans' "historic", "monumental" triumph.
The Sydney Morning Herald lauded the cyclist for conquering "one of Australian sport's last frontiers".
The paper's cycling correspondent Rupert Guinness, who has covered the Tour since 1987, said it was a huge achievement.
"To watch Evans in a near-perfect tour has been an absolute pleasure," wrote Mr Guinness. "He didn't miss a beat for the entire three weeks."
The cyclist's home town of Barwon Heads in Victoria is considering naming a bridge after him, and there have been calls for new cycling events to be organised in his name.