US invites North Korea to talks on nuclear impasse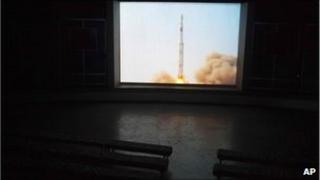 A North Korean envoy has been invited to the US this week for exploratory talks on resuming international nuclear negotiations, Washington has said.
US Secretary of State Hillary Clinton said an invitation had been extended to Deputy Foreign Minister Kim Kye Gwan to visit New York.
There was no immediate comment from the North on the talks offer.
This week North and South Korea's nuclear envoys and foreign ministers held unexpected talks.
The North abandoned the talks on its nuclear programme in 2008.
The secretive communist state, which has technically been at war with the South since the war which split Korea in the 1950s, is gripped by a food crisis and labouring under UN sanctions.
'At the crossroads'
Mrs Clinton stressed that any negotiations must be meaningful.
"We do not intend to reward the North just for returning to the table," she said.
"We will not give them anything new for actions they have already agreed to take. And we have no appetite for pursuing protracted negotiations that will only lead us right back to where we have already been."
The North's Foreign Minister, Pak Ui-chun, said in comments released on Sunday that the Korean peninsula now stood at "the crossroads of detente and the vicious cycle of escalating tension".
The countries involved, he added, must "make the best use of [the] opportunity of dialogue and make a bold decision to settle the fundamental issue".
South Korea's nuclear envoy said last week he had had "constructive" talks with his North Korean counterpart on the sidelines of the Asean summit in Bali.