China to ordain more non-Vatican bishops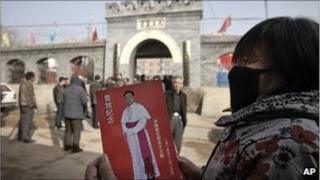 A senior church official in China has announced that the country's state-controlled church plans to ordain seven more bishops.
The statement was carried by the state-run China Daily newspaper.
The announcement comes amid increased tension with the Vatican, which insists the Pope is the only authority who can ordain bishops.
The Beijing government sees this as foreign interference. The Vatican and Beijing have not had ties since 1951.
The Reverend Joseph Guo Jincai, the vice-chairman of the Chinese Catholic Patriotic Association, did not specify when the ordinations would take place, just that local churches in seven dioceses were preparing for them.
There has been a recent spate of ordinations by Beijing's government, which have not been recognised by the Vatican.
Anthony Lam, senior researcher at the Holy Spirit Study Centre in Hong Kong, said that bishops appointed solely by Beijing and not by the Vatican were at risk of excommunication.
Underground bishops
The bishops were illegitimate, had no credibility within the diocese and were unable to work effectively, he said.
"Unfortunately the government interferes. They want this kind of candidate to be limited to their preference.
"This kind of illegal consecration is violating the Canon law. Such action is harmful and painful to the Catholic Church.
"Anyone who commits this kind of consecration is in danger of being excommunicated under Canon law Article 1382," he said.
Dr Lam said he did not know who the proposed bishops were in the seven dioceses.
There have been occasions where the Beijing government has appointed bishops who were also approved by the Vatican.
But some Vatican bishops have been forced underground in China, due to persecution from the Beijing government.