Asean: N and S Korea envoys hold 'constructive' talks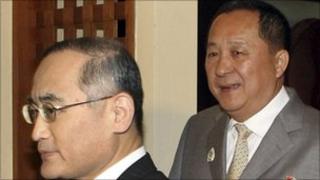 South Korea's nuclear envoy says he has had "constructive" talks with his North Korean counterpart on the sidelines of the Asean summit in Bali.
It is the first such contact since six-party talks on North Korea's nuclear programme collapsed two years ago.
Tensions between the neighbours have been high since two attacks on the South last year left 50 dead.
Separately, the US and China also met, discussing an Asean deal reached over the disputed South China Sea.
'Signs of sincerity'
The meeting between South Korea's Wi Sung-lac and North Korea's Ri Yong-ho was the first time the two countries had held bilateral talks on nuclear issues, one diplomat told South Korea's Yonhap news agency.
He said it could pave the way for a higher-level meeting between South Korean Foreign Minister Kim Sung-hwan and his North Korean counterpart Pak Ui-chun in Bali.
"I had a very constructive and useful conversation with my counterpart," Mr Wi told reporters immediately after the meeting.
Mr Ri was quoted by Yonhap as saying: "We have agreed to make efforts to resume six-party talks as soon as possible."
The North walked away from the talks - involving China, the US, South and North Korea, Russia and Japan - in 2009, but has recently said it wants them to resume.
The US has said it wants to see discussions between North and South Korea before resuming wider talks.
Tensions between the two have been high since an alleged torpedo attack by the North that sunk a South Korean navy ship and killed 46 sailors in March 2010, followed by the North's shelling of a South Korean island in November that killed four people.
South Korea has been demanding an apology or "signs of sincerity" from Pyongyang.
Burma 'challenge'
Separately, US Secretary of State Hillary Clinton "commended" China and Asean, the Association of Southeast Asian Nations, "for working so closely together to include implementation guidelines for the declaration of conduct in the South China Sea".
Beijing and Asean countries agreed on Thursday a set of guidelines to ease tensions over the area, which is thought to contain significant oil and mineral reserves.
China, the Philippines, Vietnam, Brunei, Malaysia and Taiwan all have overlapping claims to all or parts of the South China Sea, which has led to a number of confrontations in the past.
Mrs Clinton was speaking before meeting her Chinese counterpart, Foreign Minister Yang Jiechi.
Mr Yang said the deal would "go a long way" to bring "peace and stability" to the region.
But Mr Yang, in his meeting with Mrs Clinton, stressed China's concerns that its "sovereignty and territorial integrity" should be respected, a spokesman said.
Mrs Clinton angered China at last year's Asean summit in Hanoi after saying maritime security in the region was in the US national security interest.
She is due to address the Asean Regional Forum (ARF) on Saturday and will be watched closely by the Chinese to see whether she takes the same assertive tone as last year, the BBC's Karishma Vaswani reports from Indonesia.
Another issue Mrs Clinton has raised is Burma, a member of Asean - describing it as a challenge to the "cohesion and future" of the 10-member bloc.
Burma must "unconditionally" release more than 2,000 political prisoners, and begin "meaningful and inclusive dialogue" with the opposition and ethnic minorities, including Aung San Suu Kyi, she said.
"The choice is clear," she said. "They can take these steps and gain back the confidence of their people and the trust of the international community or they can continue down the path they've been on."