Spratly Islands row: Philippine trip riles China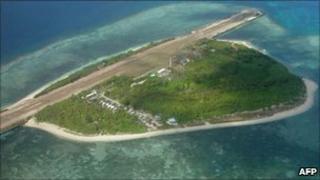 China says the Philippines infringed its sovereignty on Wednesday by sending a delegation of politicians to a disputed island in the South China Sea.
Foreign Ministry spokesman Ma Zhaoxu said China had "indisputable sovereignty" over the island, in the Spratlys chain.
A group of Philippine congressmen had flown to Pagasa island on Wednesday and declared it Philippine territory.
The Spratly Islands are also claimed by Vietnam and Taiwan.
The Spratly dispute is part of a larger territorial row, which also involves Brunei and Malaysia.
The regional grouping Asean (Association of South East Asian Nations) is currently meeting in Bali, where talks have focused on framing guidelines for resolving the dispute.
Tension has been growing this year, with China making a series of tough statements warning off Vietnam and the Philippines.
"China has indisputable sovereignty over the South China Sea islands and their surrounding waters," said Mr Ma.
"The move of the Philippine side seriously infringed China's territorial sovereignty."
The Philippine congressmen landed on Pagasa island, the only island in the Spratlys populated by Filipinos, and sang the national anthem with residents.
Pagasa, also known as Tithu island, lies about 480km (300 miles) west of the western Philippine province of Palawan.
It has an airstrip, a military base and a small town hall, and is occupied by about 60 civilians.
The Spratly Islands lie in an area thought to be rich in oil and gas. The region also has vital shipping routes.