Earthquake strikes Uzbekistan and Kyrgyzstan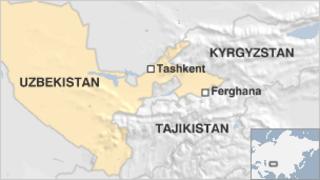 At least 13 people in Uzbekistan have been killed in a 6.1-magnitude earthquake centred in Kyrgyzstan near the two countries' border.
The Uzbek emergency ministry said the quake, in the Ferghana valley, also injured 86 people.
Kyrgyzstan has so far reported no casualties. The quake struck at 0135 on Wednesday (1935 GMT Tuesday).
It was centred 42km (26 miles) south-west of the city of Ferghana at a depth of 18km, the US Geological Survey said.
Walls cracked
"As a result of the earthquake, some old buildings were destroyed in the Ferghana region," the Uzbek ministry said in a statement.
"According to initial information, 13 people were killed as a result of the damage to the houses."
Ferghana resident Dilaffrus Muminova told Reuters news agency the earthquake had lasted for about three minutes.
"Everybody was afraid. Everything was shaking."
A resident of the Kyrgyz city of Batken - who wanted to be known only by his first name of Ismat - said cracks were visible in the walls of some houses.
"People were on the streets all night. There was a lot of panic."
Uzbek President Islam Karimov has ordered officials to the region to inspect the damage, as have the Kyrgyz authorities.
"It's clear that there will be damage, the earthquake was just too strong," said Kyrgyz government seismologist Kanat Abdrakhmatov.
The Ferghana valley is split between Uzbekistan, Tajikistan and Kyrgyzstan, and is one of Central Asia's most densely populated areas. Reuters said tremors were felt across the region.
Central Asia has a history of earthquakes.
More than 70 people died in a 2008 earthquake in Kyrgyzstan while a magnitude 7.5 quake flattened the Uzbek capital Tashkent in 1966.