Rupert Murdoch's frailty takes Australia by surprise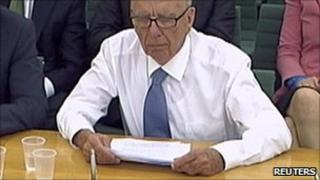 Britons of a certain vintage will remember the question asked after election night in 1997: "Were you still up for Portillo?" - a reference to the Cabinet minister whose middle-of-the-night constituency defeat came to symbolise the end of 18 years of Conservative rule. Many Australians have been asking this morning: "Were you up for the pie?" and wondering perhaps whether the Murdoch era of media dominance has also come to an end.
The parliamentary hearings became a major television event here - an overnight sensation, in the most literal sense of all, because they unfolded at such a late hour. The Murdochs took their seats at 2330 Australian eastern standard time. The major networks carried the parliamentary hearings in full, with only SBS sticking to its scheduled programming. By strange coincidence, cycling fans tuning in were captivated by the performance of another Australian, Cadel Evans, who is going well in the Tour de France.
For those who watched the parliamentary hearing - there were a lot of bleary-eyed people walking around today - I suspect the reaction was similar to the widespread response in Britain and America: genuine surprise that the Rupert Murdoch of popular legend has become so frail and monosyllabic. Here, as in Britain, the metaphor of the moment seems to be the Wizard of Oz. The curtain has been pulled back. The spell has been broken.
Faked befuddlement?
Being such a deeply polarising figure, the Murdoch appearance obviously has sparked a wide range of responses. I've heard sympathy expressed for Mr Murdoch, not only for the pie attack moment but also for being "hounded" by MPs. Others have found it inconceivable that a man who exhibited such a keen interest in the content of his beloved newspapers had so little idea about their newsgathering techniques, some of which were illegal.
More than once today, I've even heard people say that they believed the media mogul faked his befuddlement in the hope presumably of appearing as a more sympathetic figure, in which case he is an extraordinarily accomplished actor. Inevitably, there's been talk of the tall poppy syndrome, something of a lazy fallback in these kind of discussions.
As for James Murdoch, some seemed impressed by the manner in which he sought to protect his 80-year-old father. Others, in a country that favours plain-speaking, have accused him of slippery obfuscation and of faux charm. "Corporate babble" is a phrase that I've heard a few times today.
'A chance to do good'
Long after the midnight hour, my ears pricked up when Rupert Murdoch evoked Gallipoli. It is Australia's great foundation story and the first draft was written by his father Sir Keith Murdoch, who defied British censorship rules to highlight the bravery of the Australian and New Zealand forces and also the idiocy of the British commanders who sent them to their deaths.
"I just wanted to say that I was brought up by a father who was not rich but was a great journalist," he noted, in one of his most expansive answers. "And he, just before he died, bought a small paper specifically saying in his will it had given him the chance to do good. And I remember what he did and what he was most proud of and for which he was hated by many people in this country for many, many years, which was expose the scandal in Gallipoli, which I remain very, very proud of."
I am surprised not more has been made of this statement in the British press for it goes to the heart of his long-standing mistrust of the British establishment and his lifetime journalistic mission. It was a theme picked up by the New York Times columnist Maureen Dowd.
Hedging and waiting
As for the political impact here, Julia Gillard appears to be issuing what might be called holding statements. Today, she said that News Limited faced "hard questions" in the light of the British scandal, but did not outline precisely what they were.
The Greens have demanded a sweeping parliamentary inquiry into ethics, regulation media ownership - many of you were shocked that Rupert Murdoch controls 70% of the newspaper market in Australia.
Crucially, however, there has been no evidence as yet of any journalistic wrong-doing in the News Limited stable. John Hartigan, the chairman and chief executive of News Limited, is "hugely confident" that an internal audit will not uncover anything improper or unethical.
So for the time being, Julia Gillard appears to be hedging and waiting to see how the scandal unfolds in Britain. In the meantime, some of her senior ministers, namely the Treasurer Wayne Swan and communications minister Stephen Conroy, have stepped up their attacks on the Murdoch-owned Sydney Daily Telegraph for trying to force an early election.
Many thanks for your comments on the previous blog. I'd been keen to hear your thoughts on what unfolded in London overnight.