Australian police quell Christmas Island asylum riot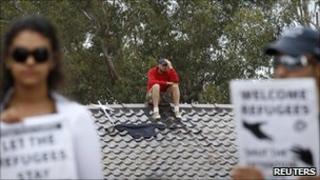 Australian police have used tear gas and "bean bag" bullets to quell rioting at the Christmas Island refugee centre - the second riot there in two months.
Police said about 50 people lit fires, threatened police with makeshift weapons and destroyed medical records.
The migrants are held at the centre, about 1,500 miles (2,400km) from the Australian mainland, while their claims of refugee status are processed.
Many have expressed frustration at long delays and overcrowding.
Prime Minister Julia Gillard warned that detainees guilty of causing disturbances were harming their chances of resettlement in Australia.
"If you commit a criminal offence it will count against you," she said.
A police spokeswoman told AFP news agency that officers had "made a number of attempts to defuse and de-escalate the situation, but these were not successful".
"[Police] had cause to deploy a range of use of force options, including bean-bag rounds, gas, and sound and flash distraction devices," she said.
Bean-bag bullets, fired from a shotgun, are small cushions filled with lead shot.
Police said some detainees had left their compounds within the centre but had not breached the perimeter fences.
Immigration is a potent political issue in Australia.
Thousands of people - some paying high fees to people smugglers - try to enter Australia each year, and successive governments have struggled to handle the issue.
Australia's human rights watchdog has called for an end to the mandatory detention of asylum seekers - citing the suicide rate, riots and depression among detainees.
UN human rights commissioner Navi Pillay has called for an end to mandatory detention, and spoken of a racist undercurrent in Australia.
The government is pursuing a controversial deal that will allow asylum seekers arriving by boat to be transferred to Malaysia for processing.