Germany in deal on Thai Prince Vajiralongkorn's jet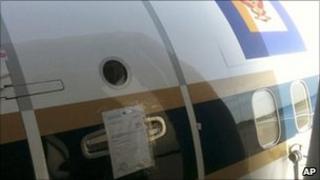 German judges say a jet used by Thailand's Crown Prince Vajiralongkorn that was impounded last week can leave - but only if Thailand provides a bank bond of 20m euros ($28m; £17m).
Administrators for a bankrupt building firm seized the jet amid claims Thailand owes more than 30m euros.
Thai officials say the jet belongs to the crown prince, not the government.
But judges ruled that documentation was inconclusive, and said the jet would be released only when a payment was made.
"No guarantee means no take-off," said Christoph Fellner of the Landshut district court in comments reported by AFP news agency.
"If everything goes well for the prince and we establish that the aircraft really belongs to him, than he will get his bank guarantee back."
The court said it had demanded 20m euros because that was the estimated value of the Boeing 737 aeroplane.
Last week Thailand dispatched senior diplomats to lobby for the release of the plane, but German officials said they could not interfere because the issue was being deal with by the courts.
The German firm was part of a consortium that helped to build a toll road between Bangkok city and Don Muang airport.
The administrators say Thailand still owes the firm for the work they carried out, but the Thais say a court decision is still pending on the debt.