Xinjiang police attack was terrorism, China says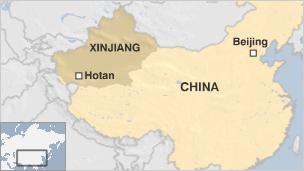 Chinese officials have blamed Monday's deadly attack at a police station in Xinjiang province on "terrorists" from the ethnic Uighur minority.
A local official told state media that one of the attackers had unfurled a banner with separatist slogans.
But Uighur activists said the security forces had provoked clashes by opening fire on a peaceful demonstration.
Officials said several police and a number of civilians were killed in the violence in the city of Hotan.
State media reports claimed a mob attacked the police station and took a number of people hostage.
Security forces managed to rescue some of the hostages, but others were killed.
"The rioters carried explosive devices and grenades. They first broke into the offices of the local administration of industry and commerce and the taxation bureau that are close to the police station," he said.
"When they realised the targets were wrong, they started to attack the police station from the ground floor to the second floor where they showed a flag with separatist messages."
But a Germany-based exile group, World Uyghur Congress, said 14 Uighurs were killed and 70 arrested after police opened fire on a peaceful protest, leading to fighting between the two sides.
"In order to avoid a further destabilisation of the situation, the Chinese authorities should immediately stop the systematic repression," the group said in a statement.
The majority of Xinjiang's population is ethnically Uighur - who are Muslims with strong cultural ties to Central Asia.
They have complained that waves of Han Chinese migrants have marginalised their culture.
In 2009, riots erupted in Xinjiang in which nearly 200 people died after tensions flared between the Uighurs and the Han Chinese.