Philippines extrajudicial killings continue, says HRW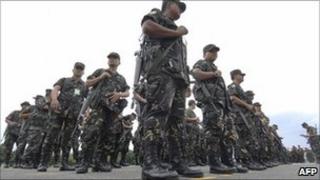 Human Rights Watch says activists in the Philippines are still being killed with impunity, despite the president's campaign pledge to end such violence.
In a new report, the campaign group says it has evidence that the military was involved in seven killings and three enforced disappearances.
Each of these occurred since President Benigno Aquino took office last year, the group says.
When President Aquino came to power, he promised a change from the old regime.
The administration of his predecessor, President Gloria Macapagal-Arroyo, had been accused of turning a blind eye to the deaths and disappearances of hundreds of people.
But according to Human Rights Watch, these abuses are still continuing.
Most of the victims - now as before - are left-wing activists and outspoken journalists.
Their families often blame the military or police of involvement.
The security forces deny the claims or say those who died were communist rebels.
In one example, Mercy Dejos has described how she found the bodies of her husband and son.
"Rudy has wounds on his back that went right through his throat. His fingernail was missing. He also had marks on his arms.
"When I saw Roderick, he was lying on the ground. And Roderick was also kicked and hit with the butt of a gun.
"I'm hoping that justice will be served for both my husband and my son," Mrs Dejos said.
Very few such cases are brought to court.
Human Rights Watch says the authorities' failure to conduct proper investigations increases the likelihood that such deaths will keep happening.