China migrant riots: Six jailed over Guangdong unrest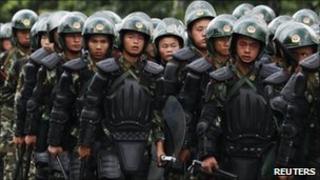 A Chinese court has jailed six people for their involvement in riots last month in a southern industrial area.
The court in Guangdong province handed out prison sentences ranging from nine months to three-and-a-half years.
Thousands of migrant workers rioted for several days in a garment manufacturing zone near the city of Guangzhou.
They threw stones at police, burned cars and ransacked government buildings after a confrontation between street vendors and security officials.
A pregnant street trader was reportedly shoved to the ground by security guards after being told to move her stall.
But the workers - many of whom were from Sichuan province - then turned against the government, with long-held grievances about corruption and abuse of power coming to the surface.
Migrant workers are often paid meagre wages, and China's tight control of internal migration means they are not given the same rights as full residents of the cities where they work.
Guilty pleas
The court in Zengcheng, where the riots took place, handed down the sentences on Monday, the state-run news agency Xinhua reported.
Defendant Li Zhonghuang was given the longest sentence of three-and-a-half years for destroying three police vehicles, state media reported.
He was convicted of creating disturbances and destroying public property, the China Daily cited a court document as saying. Four others were convicted of the same charges.
"The defendants all confessed their crimes and pleaded guilty during the trial," the document said.
Local police said last week that 11 suspects involved in the unrest had been charged. Several officials, including the town chief, have also been sacked, state media said.
Zengcheng has a booming garments industry, and its 800,000-strong population has been boosted by thousands of migrant workers in recent years.
The violence was one of a series of outbreaks of unrest in different parts of China, fuelled by complaints of injustice and corruption.