Philippine gunmen snatch US citizens on Tictabon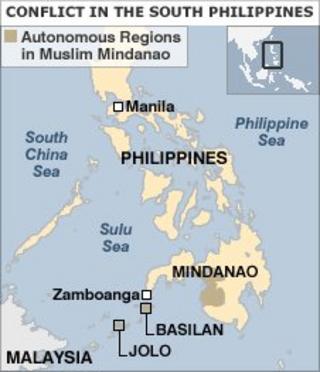 Armed men have abducted two US citizens and their Philippine relative from an island in the southern Philippines, police say.
A gang of about 14 gunmen snatched the 50-year-old woman, her 14-year-old son and her Philippine nephew from a resort on the island of Tictabon.
Reports said the woman owned the resort and was in the Philippines on holiday.
Tictabon is in the country's troubled south, where Islamist militants and Muslim separatists are active.
'Visiting relatives'
Local police chief Edwin de Ocampo said assailants had arrived in two boats at about 0300 local time on Tuesday (1900 GMT) and overpowered armed guards, before fleeing with their victims.
Army Col Buenaventura Pascual, a commander of an anti-terrorist task force in the nearby port city of Zamboanga, said the woman had arrived a fortnight ago to see relatives.
He said troops had been deployed to search for the captives.
Officials said there had been no ransom demand from the abductors, and their identities remained unknown.
There are a number of Muslim rebel groups operating in the area where the kidnapping took place, Mr de Ocampo said.
The militant group Abu Sayyaf is active in the area, and is known to kidnap people for ransom. The Moro Islamic Liberation Front rebels also operate in the area.