Province wants relaxation of China's one-child policy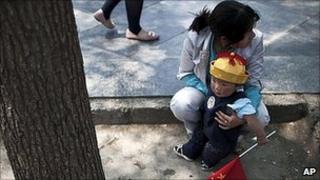 China's richest and most populous province has asked the central government to relax the law that restricts most families to one child.
Guangdong, in south-east China, wants to lead a pilot project that will allow some families to have a second child, according to state media.
The one-child policy has been in effect for 30 years and is facing growing criticism.
Guangdong officials are concerned about a rapidly ageing population.
"The increase in population is still a big problem affecting our social and economic development," said Zhang Feng, the head of Guangdong's population commission, in an interview with the official local daily, the Southern Metropolis News.
"But in the long-term, ageing will also be a problem", he said.
Mr Zhang said that Guangdong, which had a population of 104 million in the last census, would not encourage couples to have a second child, but would permit some to do so under an experimental scheme.
Guangdong is proposing that the one-child restriction be waived if either of the parents was an only child. In most provinces, families are only legally entitled to a second child when both partners had no siblings.
Current regulations also exempt other groups from the restrictions, including ethnic minorities and residents in rural areas whose first child was a girl.
China's population is currently put at 1.34 billion and is expected to peak in about 20 years time.
Critics of the one-child policy say that it is unnecessarily draconian, and that China's population growth was already beginning to dip at the time the policy was introduced in 1980.