Indonesia woman gets suspended term for Facebook libel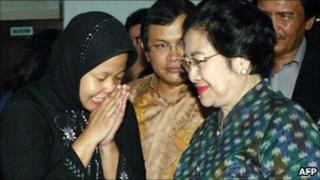 An Indonesian woman has been given a six-month suspended jail term for libel, after she complained about treatment she received in a hospital.
Prita Mulyasari criticised the hospital in e-mails that her friends posted on Facebook more than three years ago.
Criminal and civil complaints were both dismissed in earlier hearings, but the Supreme Court overruled the lower courts and sentenced her on Monday.
The case sparked a huge outcry and was an issue in the 2009 general election.
Senior politicians including President Susilo Bambang Yudhoyono offered his support for her case, and his rival Megawati Sukarnoputri visited her in jail.
Many Indonesians feel that the judicial system favours the rich and powerful over ordinary people, and Ms Mulyasari's case seemed to chime with that view.
Hundreds of thousands joined online petitions declaring her innocence.
Lawyers for the 34-year-old say they have not decided whether to appeal against the Supreme Court's decision.
She told the Jakarta Globe before the verdict was given that she could not understand why prosecutors had been so eager to pursue the case against her.
"I really find it odd that our law-enforcement officials prefer to handle small cases rather than big corruption cases," she said.
"Why are things so backward in the Indonesian legal system?"
The case dates back to mid-2008, when Ms Mulysari e-mailed 20 friends telling them that the Omni International Hospital had misdiagnosed her with dengue fever when she had mumps.
The message was posted on Facebook and elsewhere without her knowledge.
The hospital, in Tangerang near Jakarta, initially pursued both civil and criminal cases against her.
When the courts rejected both cases, prosecutors appealed against the decision, and the Supreme Court eventually convicted her of libel under the controversial Electronic Information and Transactions Law.
The law allows for up to six years in jail for such offences.
Prosecutors dismissed allegations that there was outside influence in the case, saying lawyers were following the law when they appealed against the acquittal.