Japan clarifies nuclear 'stress testing'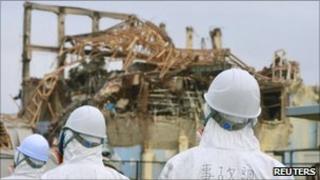 The Japanese government has tried to clarify its conditions for restarting dozens of nuclear reactors, idle since the 11 March tsunami and quake.
Officials said "stress tests" announced last week would be in two phases, and reactors would be allowed to restart after the first stage.
But the government still gave no timescale for the tests, or any further detail of what they might involve.
March's disaster wrecked the Fukushima Daiichi nuclear plant.
Two-thirds of Japan's 54 reactors have remained inactive since the disaster, awaiting approval from officials and regulators to restart.
On the weekend, officials released the latest death toll from the 9.0-magnitude earthquake and tsunami, saying 15,547 died and 5,344 were still missing.
Energy shortage fears
No-one has died as a result of the nuclear crisis, but the Fukushima meltdown has sparked a national review of energy policy and turned public opinion largely against nuclear power.
Chief Cabinet Secretary Yukio Edano said the initial stage of the stress tests would examine whether the 35 reactors currently sitting idle could withstand big earthquakes and tsunamis.
After passing this assessment, the reactors could be restarted while they undergo more rigorous testing.
"Safety and a sense of security are the top priority," Mr Edano told a news conference.
Prime Minister Naoto Kan, who is under extreme pressure to resign, caused confusion last week by announcing the stress tests.
His announcement contradicted earlier advice from the government that the country's idle reactors were safe to restart.
Officials have yet to offer a timetable for the tests, sparking fears of major energy shortages in the coming months.
Japan has been marking four months since the disaster hit the north-eastern area of Honshu island.
Vigils have been held in temples in the worst-affected areas.
To see the enhanced content on this page, you need to have JavaScript enabled and
Adobe Flash
installed.