'Children safe' after siege at Malaysian kindergarten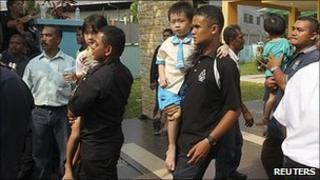 Some 30 children and their teachers have been freed unharmed after being held hostage for several hours at their kindergarten in Malaysia.
Police used tear gas before storming the compound in a suburb of Muar town in Johor state.
The hostage-taker, reportedly armed with a hammer and machete, died later in hospital after being shot in the head, police said.
A similar incident last year led to schools being given safety advice.
"We have ended the hostage taking. The children and teachers are safe. The hostage-taker armed with a hammer and machete has been taken to a local hospital," one police officer told AFP news agency on condition of anonymity.
Johor deputy police chief Jalaluddin Abdul Rahman later said that the 40-year-old hostage-taker, who was in a critical condition with a head wound, had died.
Gun request
According to the newspaper, police shot tear gas before entering the building at around 1545 (0745 GMT).
It followed several hours of negotiations with the hostage-taker, while heavily-armed troops from the elite Special Actions Forces and ambulances stood nearby.
Early in the negotiations, the man - reported by local media to be mentally unstable - had threatened to kill the children if he was not given a gun, and had also asked for some food, the newspaper reported.
At one point the children were heard singing in what was believed to be an attempt to calm the man, Bernama news agency reported.
The father of a five-year-old told AFP that he was informed of the incident at about 1000 and was told the man was armed with both a hammer and a knife.
Anxious parents gathered around the police cordon as negotiations with the hostage-taker continued.
Last year a man barged into a kindergarten in the same district with a hammer and attacked three children.