Japan nuclear 'stress test' plans criticised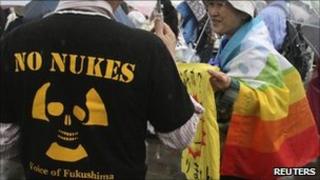 Japan's plan to hold further safety tests on its nuclear plants has drawn widespread criticism, and heaped more pressure on Prime Minister Naoto Kan.
The government announced the tests just weeks after declaring that the nuclear plants were safe to restart.
Officials gave no timescale, sparking concern that the country could face power outages all year.
The 11 March earthquake and tsunami wrecked the Fukushima Daiichi plant, causing a review of nuclear power.
Engineers are still working to shut down the plant, where three reactors melted down and radioactive material has leaked out.
The 9.0-magnitude earthquake - the country's most powerful on record - created a massive tsunami that levelled towns along the country's north-east coast.
'Fuelling confusion'
A local mayor said he had withdrawn permission to restart a nuclear plant in his town in protest at the latest tests announced by the government.
Hideo Kishimoto, mayor of Genkai town, had consented on Monday to the plant's reactors reopening.
It was due to be the first to restart after the tsunami.
But Mr Kishimoto said of the government's announcement: "This made me feel my decision was meaningless, and I feel furious about it."
The government said it was satisfied that Japan's plants were safe, but the stress tests were designed to allay people's fears.
Two-thirds of Japan's 54 nuclear reactors are currently shut down as the government grapples with a rising tide of anti-nuclear sentiment among the public.
Prime Minister Kan has been under huge pressure over his handling of the nuclear crisis and the reconstruction of areas devastated by the tsunami and earthquake.
And critics have once again rounded on him after Wednesday's announcement of stress tests.
The announcement did not specify what the tests would entail, or how long they would take.
The Nikkei business daily said in an editorial that the announcement had "fuelled confusion".
The financial firm Goldman Sachs said in a statement that the prospect of sufficient nuclear power being available in Japan before summer peak demand was now remote.
The value of shares in Japanese energy firms fell sharply after the announcement.
Trade Minister Banri Kaieda, who had announced last month that the plants were safe to restart, said the extra tests were needed to "further increase the sense of safety".
Mr Kaieda told parliament on Thursday he would take responsibility for the confusion over the restarting of nuclear plants "when the time is right".
But he said he had no immediate plans to resign.
Waves from the tsunami caused back-up generators at the Fukushima Daiichi plant to fail, disabling reactor cooling systems and leading to meltdowns, explosions and radiation leaks.
The plant's operator Tepco has come under heavy criticism for failing to sufficiently prepare for the natural disasters.
To see the enhanced content on this page, you need to have JavaScript enabled and
Adobe Flash
installed.