China denies Jiang Zemin death rumours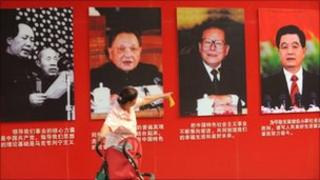 Chinese state media has denied as "pure rumour" internet and media reports that former leader Jiang Zemin has died.
The denial was carried by the Xinhua news agency, quoting "authoritative sources", after days of speculation about the 84-year-old's health.
The rumours were sparked after Mr Jiang failed to appear at a key Communist Party event on Friday.
Web users say censors have been blocking searches for Mr Jiang's name in recent days.
Internet searches for Mr Jiang's name have returned a warning the search is illegal.
The word "jiang" also means river, so searches for that word have also returned the same warning.
The censorship has prompted people to create cryptic postings about the man who led China for a dozen years.
Web censors have deleted domestic blog posts about Mr Jiang and blocked foreign media reports about his state of health.
References to him have also been removed from the country's Weibo microblogging service.
In an attempt to circumvent the censors, online users are posting entries with English variations and alternative names.
Though there have been no reports about Jiang Zemin on mainland China, media sources in Hong Kong reported his death on Wednesday night, citing unidentified sources.
It is believed Mr Jiang is currently being treated at a military hospital in Beijing.
Mr Jiang rose to power after the 1989 Tiananmen Square protests.
He led China through the 1990s, when he helped bolster the nation's international image and presided over an economic boom.
He transferred his power and positions to President Hu Jintao between 2002 and 2004.